---
Sonic Cube \"Filter
---
Sonic Cube - Filter
Author:

Death Posture

Time:

30.03.2006 16:20
Text:
Hands-in-the-air, cocktail trance, cheddar and a broken jedi…

Filter is the second album by the Swiss project Sonic Cube (aka. Sonnenvakuum) which nowadays consists of Daniel Müller & Ueli Schill. (Tobi Wirz left the project to concentrate on his housy Greed-project). Most of the stuff I've heard from these guys has been smooth, well-polished progressive house/trance – though a few tracks have had the ever-sought-after-by-me 'edge'. With this second album I'm hoping we'll get more of that edge… The fact that it's released by the very upfront Tribal Vision label would also indicate something totally fresh… Let's find out…

Let me take you thru the tracks…

#01: Hide [125 BPM]
"When light comes down on me, when darkness shines on you…" The opening track is huuuuuuge! This is majestic stuff - wide span progressive trance with a deep, funky rhythm section and floating, groovy melodic pads… If you were to describe this track with one single word, 'phat' would cut it… It's not edgy, in fact it's even pretty clubby with the vox and the hands-in-the-air appeal, but somehow it just works wonders… A really nice tune!

#02: Last Jedi (feat. Sonnenvakuum) [134 BPM]
"I have come for the jedi… They are all dead… In search of the jedi... And one broken jedi cannot stop the darkness that is to come." Haha – what the HELL is up with those Engrish lyrics? What the hell is a broken jedi? Haha! Guys, I dunno what you're trying to achieve, but those lyrics are downright horrible… And what crazy gimmick is 'featuring Sonnenvakuum' anyway? That's like 'me featuring myself'! Anyway, the track itself is much faster than the previous afternoon groover… This is stripped down progressive trance without a lot else going on that what we're used to hearing… Reminds me of Insane Creation or Sensifeel… Not bad at all, but not special either…

#03: Cloud Buster (Album Mix) [135 BPM]
Cloud Buster was released as an EP in late 2005 – it featured a fantastic André Absolut remix which was also on the 2005 Tribal Vision compilation Street Art. But hey, the original is pretty damn fantastic too – this is a monstrous tune… Rich, phat and totally groovy… The thunder FX adds to the overall excitement and this is a certified dancefloor bomb… Very smooth and instantly rewarding!

#04: Amnesia [134 BPM]
Next up is another morning tune with a strong emphasis on tribal percussion and nifty little uplifting melodies… It's all very nice and well-polished, but unfortunately it lacks a little bite… Not bad at all, but sadly a little too forgettable… I tend to skip this track…

#05: Test [135 BPM]
But luckily things pick up again on this electro-infested little house number… That's right, this is electro-house which crosses over into progressive trance – or maybe the other way around, I don't know!? What I do know is that this track has the 'edge' I was looking for earlier, and that's obviously a good thing…The voice-samples are a bit tacky, but the retro-cool synths totally make up for that… This reminds me of Meller and/or D-Nox & Beckers and similar acts… It's real pleasant! =D

#06: Danger [135 BPM]
Next up is a much more wide-appealing track… This is epic club trance with a very strong emphasis on driving, twirling melodies… And yeah, not as edgy as I like… This is for the clubbers, and as such a little too commercial for my taste…

#07: Microbes [132 BPM]
More dancefloor material here, but I'm happy to report that this is much less cheese filled... This is focussed, driving progressive trance with a pinch of electro-house… A very uplifting tune that is just dying to be played out loud at a sunny beach party… This is cocktail trance! Cheers!

#08: Xcute [128 BPM]
*Sigh* I guess it shouldn't come as a surprise any longer, but this is another very commercial, clubby outfit of a track... Technically this could have been a very sweet tune and it's very similar to track #1 in construction with its huge melodic pads and majestic appearance… And sure, this is very nicely produced music… Lush, plush and uplifting… I just wish they'd upped the edge-factor and toned down the cheese…

#09: Astray (feat. Sabrina) [66 BPM]
Just like on the recent Flowjob album we get a closing track that revolves around female singing – only difference is that this is a VERY laidback, downbeat track… And just like the Flowjob track, the actually music is pretty damn cool – but it's totally destroyed by the vocals which are mediocre at best… Argh, finally some edge, and it's soiled by those crappy vocals… ;o/

It really, really, REALLY pains me to say this, but this is the worst Tribal Vision release so far… Don't get me wrong, there are still some excellent tunes here, but overall this album wasn't as 'edgy' as I'd hoped for and the good tracks kinda drown amongst the commercial tracks… In that sense this reminds me of the Gaudium and Insane Creation albums… It's all quality music, but the clubby moments are too many for my tastes…

The cover art is also very unlike what we're used to with Tribal Vision, but I guess in a sense it fits the somewhat commercial music pretty well… So, to conclude: Besides from the few stand-out tracks listed below, this album is probably not gonna get a lot of playtime in my house – but on the other hand I'm sure it'll go down very well with fans of progressive trance that crosses well over into club territory… Cos in that genre, this album is definitely a hit! … Enjoy!

Favourites: 1(!), 3(!), 5, 7

DeathPosture


External links:
Sonic Cube: http://www.soniccube.ch
Tribal Vision: http://www.tribalvision.cz
Discogs: http://www.discogs.com/release/634433
Saiko Sounds: http://tinyurl.com/fqtvf
Beatspace: http://tinyurl.com/hj8nh
Psyshop: http://tinyurl.com/e7xo7
Wakyo: http://tinyurl.com/fwcg9
Juno: http://tinyurl.com/zku4c
---
Message threads
| Topic: | Author: | Time: | |
| --- | --- | --- | --- |
| | Death Posture | 30.03.2006 16:20 | |
---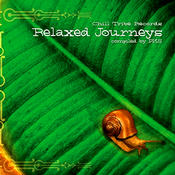 New album
from
Chilltribe
Relaxed
Journeys


Get your
Quality
Relaxation!