---
Shulman \"Random Tho
---
Shulman - Random Thoughts
Author:

Death Posture

Time:

16.03.2006 13:19
Text:
Shulman re-animated…

Ever since the release of the debut album Soundscapes And Modern Tales in 2002, the Shulman project (Yaniv Shulman & Omri Harpaz) has been a fav'e of mine… The follow-up In Search Of A Meaningful Moment was almost as good and ever since I've followed everything coming out of the Shulman/AlephZero labs in Israel… Yaniv Shulman and his mates have yet to let me down with their hi-quality phat productions… Now it's time for the third album which seems to have a couple of familiar tracks… Let's find out what that's all about…

Let me take you thru the tracks…

#01: Shulman – OMG
Oh… my … god! Well I'll be damned if this isn't the best damn Shulman track I've heard in ages… What we get here is floating chill-scapes seasoned with native chanting, Shponglesque sequencing and one trippy melody after the other… The long, floating organic pads are trademark Shulman and they represent everything I love about their sound… This is exactly why I'll never get tired of psychedelic chill-out… Stellar track!

#02: Bluetech & Shulman – Midnight Bloom
Next up is another collaboration between Shulman and US-based producer Evan Bluetech who recently released his third album Sines And Singularities on AlephZero… And the melancholy Bluetech touch really shines thru on this track – with the added ethnic mysticism courtesy of Shulman… A pretty nice tune, but it doesn't have quite the same momentum as the previous one did…

#03: Shulman – Zero Degrees
This is pure Shulman now – and on this track there are actually a lot of parallels to the aforementioned Bluetech… The intro is cold, static, numb and totally depressing, but eventually the track evolves into a much warmer, joyous downbeat excursion… Floating ambient with some refined rhythms and harmonic synths… A story telling track if there ever was one… The level of emotions in this one is simply impressive… A brilliant track!

#04: Sub6 feat. Michele Adamson – Ra He'ya (Shulman Remix)
"Bad, bad, bad, bad… Ra He'ya! How do you like it? Yeah! Take all the clothes off. I know you like it! … It goes something like this: Bad, bad, bad, bad boy, go to my room and twiddle your thumbs 'til I come. Don't have to think. Ohh, let's make some noise. I'll let you bring all your toys." This track was first released in 2004 by HOMmega on the Sub6 CDM Ra He'ya and then again in 2005 by Nice Dreams Music on the Multiple Organisms compilation… Truth being, it was one of my fav'e remixes of the CDM, and when it's stuff this good, I don't mind owning it on CD again… This downbeat version is very different from the original and Michele Adamson's + the dude's vocals are filtered and vocoded almost beyond recognition… It's still a great fucking tune… Sexy as hell too!

#05: Entheogenic – Spaced (Shulman Remix)
"And then I promise you you'll dream a different story altogether…The imagination, the inside of our heads really is the most vast frontier!" This track was released on the Entheogenic album Dialogue Of The Speakers released by Chillcode Records in 2005 and with its deep, playful percussion and soothing atmosphere it was one of the many excellent tracks off that album… And yes, it's still a brilliant track… Magical even!

#06: Omar Faruk Tekbilek & Steve Shehan – Ya Bouy (Shulman Remix)
This track was released back in 2004 on the AlephZero compilation Natural Born Chillers. Here's my review from back then: AFAIK Turkish ney master Mr. Tekbilek is pretty well-know in the Arab world-music scene and has had tracks featured on well-known ambient compilations like Buddha Bar and Back To Mine… And now, here's a Shulman remix – and what a track! This is ambient world music with thick, thick Eastern influences and an overall phat ethnic groove… Reminds me of Asura or Kaya Project at times… Very good! According to Shulman, the instrument played here is some kind of Turkish wind instrument similar to the Indian shenhai… Amazing track!

#07: Shulman – Look Honey It's The Vitties!!!
And here's the odd-ball track of the album… Both the title and the actually music, is far off the beaten path… The IDM intro with irregular beats must have the highest BPM rate ever in a Shulman track, and the rich jazzy influences are destined to crack a lot of smiles… Saxophone pads and Elvis-samples… What more could you wish for? A funny, yet totally mature downbeat tune… Sweet!

#08: Shulman feat. Lee Triffon – I Dive
"I dive in the ocean. What an emotion. I dive in the ocean. I see the man wanders all alone. You're my inspiration. I dive in the ocean. You are everything I need. You are my creation. You are everything I need." On this epic track Shulman is joined by singer Lee Triffon who has a gorgeous voice… Musically this is floating, melodic ambient with subtle percussion and the emphasis on the angelic vocals… Brilliant, soothing and totally relaxing music that you even your mother or grumpy neighbours will like… Pure Shulman magic!

#09: Shulman – Staring At The Abyss
To finish things off we get a virtually beatless ambient piece… So yeah, we're reeeeeeally chilling out now although the track does have peak moments with more action… The liquid-link is evident and generally this is another one of those journey tracks that Shulman does so well… A sweet, relaxing tune, but not as captivating as some of the previous tracks… Still a nice way to finish the album though… ;o)

After the release of this third album, people were quick to condemn it because of the three previously released tracks… And in all fairness, I think everyone would have preferred all exclusive material… But when stuff this good is 're-cycled' I can't really get worked-up… All three tracks are wonderful and they deserve their place besides the new Shulman tunes that we also get here…

The new tunes seem more diverse musically than what we heard on the first two albums, but they are all very good and very Shulmanny! And when it all boils down to the most important factor, the music, I think most people would agree that this is a VERY fine collection of downbeat tunes… The quality level is impressive as always and I even like this better than the Bluetech album… I'm not sure how well I like the androgynous person of the cover, but hey, the fish rocks!

To conclude, this is a wonderful album that's almost as good as the previous two… My respect and admiration for Shulman is greater than ever and I'll recommend this album to all fans of eclectic, diverse, well-produced, psychedelic downbeat music… Enjoy!

Favourites: 1(!!), 3(!), 4(!), 5(!), 6(!), 7, 8(!)
---
Message threads
| Topic: | Author: | Time: | |
| --- | --- | --- | --- |
| | Death Posture | 16.03.2006 13:19 | |
---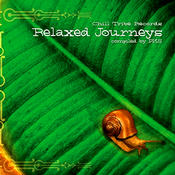 New album
from
Chilltribe
Relaxed
Journeys


Get your
Quality
Relaxation!