---
Street Art
---
V/A - Street Art
Author:

Death Posture

Time:

05.01.2006 13:39
Text:
Streetwise knack!

Czech label Tribal Vision was recently voted 'best new label of 2005' by the Isratrance forum community… And I totally agree on that! Slater & Co. have fast become major league players in the progressive world, releasing high quality albums + compilations… This is the 6th release, and once again the track list looks very impressive… Let's head downtown and check out the high street performers…

Let me take you thru the tracks…

#01: Absolut & Greed – The Other Side [132 BPM]
Swiss producers André Abt (Absolute) and Tobi Wirz (Greed) have teamed up on this intro track… Whereas Greed is not a project I know too well, Mr. Abt has indeed impressed me with his aggressive progressive style… And yeah, I guess aggressive progressive is also the keywords here… The track doesn't waste time with boring intros, and the first sound is a kick-drum, which immediately gives the track a raw edge… After about a minute, more FX are added, like a nifty little melody and some tweaked synths thrown in to add to the groove… A very nice track, but I could have wished for a climax or two – and what's up with the long boring ending? But still – a fine opening track!

#02: Rai – Let's Dance [129 BPM]
Rai is Roman Horinek from the Czech capital Prague and he had a well-polished (subsequently a little too clubby) track on the Lime Light compilation released earlier this year…And whereas his previous tracks were maybe a little too Balearic, this track digs deeper into electro/progressive house territory… Synth galore with über-smooth sequencing and a tight rhythm section… I'm still not a big fan of the cheesy vocals, but in this track they don't bother me as much as they could have… So IMO, a step in the right direction for Rai – the future looks promising…

#03: D-Nox & Beckers – Jet Lag Slave [128 BPM]
This German power house duo consists of Christian Wedekind (D-Nox) and Frank Beckers - and they've been all over the place recently… To be honest, I never really got Becker's mega-hit Switch, but combined these guys have made some absolute corkers… This track was already released on wax by Baroque Records, but now it's available on CD too. Anyway, the track itself is a sure-fit progressive little beast… Somewhat minimal in structure, but with enough depth and warmth to satisfy progressive elitists… The middle bridge part is nothing short of impressive, and reminds me a great deal of the latest Son Kite album… Sweet tune!

#04: Minilouge – Spam [130 BPM]
"She was kneeling beside him and gently lifting the tearstained face from his arms. I've got something to show you. She removed the pencils, one at a time, and placed them on his desk. Do you love yourself? You may think that you do, but do you really? There is only one way to find out – by taking a closer look at what you think, say and do. You might not like some of what you find, but if you're serious about really loving yourself, then take a closer look!" And hey, I was just talking about Son Kite… Minilouge is of course a Son Kite alias, and the Swedish wizards Sebastian Mullaert and Marcus Henriksson have seldom let me down… As with the previous track, this was also released on wax by Frosty Music in November 2005... It's great to be able to listen to it on CD also… Anyway, this sounds just like I'd hoped… Son Kite-like progression and break, Kooler-like rhythm section and Minilouge groove… So fucking sweet! Disable your spam filter people – you do not want to miss out on this funky number! Stellar!

#05: Sonify – Sonifunk [130 BPM]
Israeli sensation Andy Yakovlev really, really impressed me with his ProSect track Sonified released on the Inner Circle compilation in September… One of the best progressive tunes of 2005! And whereas this is a very mature, experimental track, I'm afraid it doesn't live up to my expectations… It's not that I don't like the electro/trance outfit – not at all… I like genre bending stuff, but it just seems so oddly out of place here… Also, I'm not too impressed with the ragamuffin vox – they suck! Anyway, the track is not bad at all; in fact I'm sure it would be a real stomper without the vocals… But - it's just positioned wrongly on the CD...And that's a shame!

#06: SAN & Sebastian Moore – Interceptor [128 BPM]
This is my first encounter with the music of Dutch producers SAN (Sander Jongerius) and Sebastian Moore, but apparently they've gained massive playtime amongst some of the biggest DJs in the club scene… Despite the low bpm, this seems like one of the fastest tracks here, mainly because of the pounding bass/kick session… Later the track takes a clubbier detour into more housy realms – complete with a break down, reverbs and floating, uplifting melodies… I like it for the most part, and especially the final tribal run is pretty nice… A nice little tune!

#07: Sonic Cube – Cloud Buster (André Absolut Remix) [128 BPM]
Sonic Cube are Swiss producers Daniel Müller & Ueli Schill perhaps better known as Sonnenvakuum, and their Cloudbuster EP was the first vinyl release by Tribal Vision… From that we get another visit from André Absolut with this, his remix… And what a remix! Oh my, this has 'funky' written ALL OVER IT… From the minimal tribal intro, to the huuuuuuge groovy pads, to the uplifting melodies and so on… A huge, epic progressive hit – with enough depth and edge to keep me entertained! Fantastic!

#08: Flowjob – Life Extensions [129 BPM]
"Life Extension, or LE as we like to refer to it, is a glimpse of the future. It's a ticket. Not in the juvenile sense, but in the deeply meaningful sense. […] The dream of peace!" Danish producer duo Flowjob (Joakim Hjørne & Mads Tinggaard) has also had a successful year, with stand-out tracks on both Lime Light (Tribal Vision) and Set/5 - Summer Collection (Iboga Records)… And here's another trademark Flowjob choon – rich in floating, well-polished, feel-good progressive trance with well-fitting samples from Vanilla Sky… This is funky as hell and definitely sexier than anything else on this compilation! I for one cannot wait for the debut album coming soon on Iboga Records… Another fine tune!

#09: Vibrasphere – Manzanilla (Jaïa Remix) [135 BPM]
Behold the battle of the giants! When I first read the track list to this compilation, this track was the biggest piece of eye candy… I mean, come on – the classic downbeat track by Vibrasphere remixed and tranced-up by another legendary producer - Jaïa! And the track sure doesn't disappoint – this is fast-paced, edgy progressive house with more than a few excursions into uplifting, twisted morning trance… And what is that strange sound – a cello perhaps? Whatever it is, this is a mighty fine, uplifting tune that crosses well over into different genres… A brilliant hybrid track and a fine way to end the compilation…

With Street Art Tribal Vision removes the last shred of doubt in my mind – this is one of the best labels within progressive trance! Right up there with Iboga Records and Digical Structures! Damn, I'm impressed by these visionary Czechs… By looking at my indication of favourite tracks below, it should come as no surprise that this is indeed one of the very best progressive trance compilations of 2005 – and it will remain a fav'e well into 2006 too! With only a few minor glitches, everything on this CD is solid gold…

As always, we get the full package here – stylish artwork by Quapim, and a phat color booklet with info on all artists + a handy DJ slip… Stuff like that always sends my thumbs in the air! Well done Slater & Schwa! So, to conclude – this is a very solid compilation, that will appeal both to progressive dancers, sofa trancers and groove connoisseurs… An essential purchase! Enjoy!

Favourites: 1, 3(!), 4(!!), 6, 7(!!), 8(!), 9(!)
---
Message threads
| Topic: | Author: | Time: | |
| --- | --- | --- | --- |
| | Death Posture | 05.01.2006 13:39 | |
---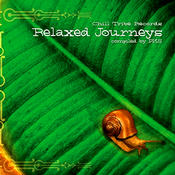 New album
from
Chilltribe
Relaxed
Journeys


Get your
Quality
Relaxation!