| | | |
| --- | --- | --- |
| V/A Solstice Black compilation #02 | | |
---
Top level
Music reviews
---
(Review by PKS)
New CD compiled by Xavier Morel out on Solstice Music...
Solstice Music in Japan releases mostly mainstream full on psytrance these days. Luckily, they have hired long time techno dj Xavier Morel to fresh up the label with some new directions, something they are showing in their Solstice Black compilation series... The first chapter released earlier this year got great feedback from worldwide, including both techno gurus and strong names from the tech trance scene. A compilation that gave new hope to many of us who had started to see the dead end of this genre. Xavier sure has got the right connections, both in the techno scene and in the psytrance scene, something that shows both in his dj gig tours and in his compiling. Here he delivers a second compilation in this series, going even further away from psytrance than in the first chapter...


V/A Solstice Black Compilation #02 (Solstice Music International) 2006 (SOLMC-079)

1. DJ Hell vs. Johannes Heil - P.D.D. (Johannes Heil Edit) (5:40)
2. X-Dream - Ultratube (Pascal F.E.O.S. Treatment Remix) (6:29)
3. Welt In Scherben - Astrogator (6:18)
4. Juno Reactor - Mona Lisa Overdrive (Thomas P. Heckmann Remix) (6:24)
5. The Delta - Warp (6:24)
6. Koxbox - Woolectrix (John Selway Remix) (7:13)
7. Johannes Heil - Think Tank (7:06)
8. Control F - Micro Music (8:31)
9. P. Codenys - Absolute Milk (6:05)
10. MX Experiments - Neutralizing Agent (7:44)

As in the first chaper of Solstice Black, there are no newcomers in sight here... The cream is gathered, with techno pioneers DJ Hell and Johannes Heil opening. Pretty oldschool sounding techno. Acid techno is still not dead! Computer voices and rough sounds that brings me right back to an early 90ís rave. On this compilation we get several huge psytrance acts too, such as X-Dream, Juno Reactor and Koxbox, but they are all remixed back to technoland. Still, the guys who has got the honour of doing these remixes, should definately be credible enough to do so. Pascal F.E.O.S. does his usual way with an X-Dream track. Not much left of X-Dream in this one, but driving techno for those who like it drifting in a concrete techno basement... Thomas P. Heckmann is a name that should be familiar among all techno users. He delivers a track under his Welt In Scherben alias, plus a remix of a Juno Reactor track. Electro influenced techno. Probably a bit too rough for use at home, but nothing wrong with it as a dj tool for the dancefloor. The Juno Reactor track can never become better than the original, but TPH has done a pretty good job transforming this track into something completly different. A bit stripped down, but you still get some of the good old Juno Reactor vibe with it. One of my favouites in the tech trance world is offcourse The Delta, who delivers one of my favourite tracks on this compilation. A totally banging techno tune, which should shake you deep and hard late at night.... I like the way they have combined the dark, rough vibe with atmospheric elements here... Nice one. John Selway gives us his way of transforming Koxbox. Minimal, drifting techno that for sure will raise some hands at your local techno club. Not exactly my cup of tea at home, but again something that could come handy as a dj tool. Johannes Heil gives a drifting track with some very typical electro sounds. I have had a bit too much of those electro sounds by now, but still it goes pretty hypnotic and intense. Control F (Oz Morsley) also known as part of Empirion back in the days slows down the tempo a little here. I really like this one, with bouncing beats and funny details of sounds. Towards the end, we get a track my another veteran in the scene, Patrick Codenys, also known for being part of Front 242. This track is pretty experimental. Something for those who like it industrial... Xavier finishes the compilation with a track he has made himself, together with Merv Pepler of Eat Static fame. It starts nice and dubby, before we get thrown into a massive psytrance drift, including beautiful, atmospheric Eat static vibes and tons of creativity, as always from Merv. Best track we get here in my opinion.

Itís really nice to see that Xavier has done the right connections here, and gathered talented veterans from both sides of techno and psytrance. A really fresh breath of inspirational sound to the pretty much stagnated scene we have these days. Although some of these tracks fits better as dj tools than for your home stereo, Iím convinced that this compilation should give some artists out there a little ear opener for new inspirations. For sure something for those who miss the drifting sound of 90ís techno clubs, so check it out...
PKS

Comment List
---
There are no comments.
---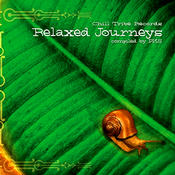 New album
from
Chilltribe
Relaxed
Journeys


Get your
Quality
Relaxation!