| | | |
| --- | --- | --- |
| Beese & Brtschitsch "...In The Long Run" | | |
---
Top level
Music reviews
---
Review by PKS
C.o.r.n. Recordings is back with another quality chillout album...
C.o.r.n. Recordings based in Germany is out with their third release. After two high quality albums by Entheogenic and Gabriel Le Mar, they give us an album by two other well known names in the electronic music scene, a collaboration between Paul Brtschitsch and Jens Beese. Both have been around for a long time, but Paul is the most known name here. As usual, C.o.r.n. serves something chilled, this time slightly more experimental than the previous two releases.


Beese & Brtschitsch "…In The Long Run" (C.o.r.n. Recordings) 2006 (CORNCD03)

1. My Attitude
2. Lazy
3. Far
4. Time Is Like A Horse
5. Guilty
6. A Kind Of Adventure
7. Destiny
8. Scree
9. Underwater Language
10. Hush!

These guys have been mostly into techno stuff, but here they show a soft side of their music. Most of the tracks have a jazzy vibe. In general easy listening, but with some rough edges added to it. Most of the tracks are quite experimental, within beats and sounds. We also get a lot of vocals and beautiful vibes in here, but it never becomes too cheesy or easy digestible. I like the variation we get here, mostly with dubby beats and a few electro influences. Track 10 is the most relaxing one, with pure floating ambient, melancholic vibes and a few Indian vocals. The last track on the album is a short hidden track. Here you have to wait for over nine minutes of silence before it starts.

I enjoyed this album a lot! Very experimental album, which taked time to get bored of. Nice chilled vibes all the way that demands a little bit more from the listener than the majority of chill albums. With the three releases so far, C.o.r.n. has given us three very different styles of chilled electronic music, still with high quality artsist and music all the way. So, if you are after some experimental chillout music with a jazzy touch, check this out.
PKS
Comment List
---
There are no comments.
---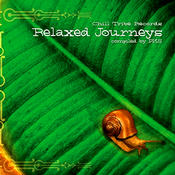 New album
from
Chilltribe
Relaxed
Journeys


Get your
Quality
Relaxation!