---
Top level
Music reviews
---
Review by PKS
Second compilation out on Native State Records...
The third release is out on American Native State Records, this time a new compilation. It is compiled by Bluetech who runs the label, and Naasko, who also has made compilations for Canadian Interchill records. As usual the cover art is beautiful.


Beneath The Surface (Native State Records) 2006 (NSCD003)

1. Irwin's Conspiracy – The Beginnings Of Something Good
2. Bluetech – Ice Forming On Glass
3. Sympath – Amethyst
4. String Theories – White Dragon
5. Marconi Union – Buildings And People
6. Krill.Minima – CatDinR42
7. Nalepa – Porcelain
8. Ganucheau – Stillness
9. Rena Jones – Aurora Borealis
10. Desert Dwellers
11. Bluetech vs. Shulman – Midnight Bloom
12. Aerostatic – Continuous
13. David Last – Landscape

On this compilation, we don't get purely so called psychill, but a mix of mostly pure ambient and IDM tracks. We get a lot of new names here, but also some tracks by artists that should be well known to most chill listeners. First out is someone called Irwin's Theory, who gives us a floating intro. Track 2 is by Bluetech himself. He rarely dissappoint us, and gives us here another beautiful masterpiece with melancholic vibes and relaxing sounds. Track 3 is by Sympath who also had a track on the first Native State compilation. Noah Pred is involved in this project, known for several releases on various labels in the US. Here we get a track with some mystic vibes, totally relaxed, floating vibes with some dubby beats. Track 4 is by String Theories, which is Rena Jones together with Bluetech. Pretty experimental track, with ambient soundscapes. More relaxed than the usual Bluetech sound. Track 5 is by Marconi Union who also has released a couple of albums. The track we get here was originally released on his album called Distance on Hannibal Records last year. Here we get a beautiful, melancholic, relaxed melody. Then we get a totally deep ambient track by German Krill.Minima who has mostly been releasing mp3's.

Track 7 is by Nalepa who also had a track on the previous Native State compilation. This one continues the deep soundscapes, with IDM sounding vibes. Track 8 is by a pretty fresh artist called Ganucheau. He keeps it deep, and goes even more melancholic. As chilled as it can possibly get. Track 9 is by Rena Jones, who will release her debut album on Native State Records. Here we get beautiful violin, mixed with relaxed electronic sounds and melodies. One of my favourite tracks on this compilation. Track 10 is by Desert Dwellers who gives us a mystic sounding floating track with some Chinese vibes. Track 11 is an interesting collaboration between Bluetech himself and Israeli Shulman. This track was also released on Shulman's album Random Thoughts. A great track between two of the masters in the chill out scene. Then we go back to pure relaxing ambient again, with a track by a fresh artist called Aerostatic. Deep, floating ambient. David Last finishes the compilation with an experimental track mostly consisting of violin (done by Asmira W. Page). Totally relaxed as it has been through the entire journey.

This compilation gives us mostly pure ambient and IDM, so if you are looking for ethnic psydub etc, this is not the first choice. But, if you want to explore some deeper ambient soundscapes, this should be an excellent buy.
PKS (shivapks@hotmail.com)
Comment List
---
There are no comments.
---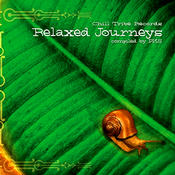 New album
from
Chilltribe
Relaxed
Journeys


Get your
Quality
Relaxation!