| | | |
| --- | --- | --- |
| Tegma - Around The World In 80 Minutes | | |
---
Top level
Music reviews
---
Review by PKS
Third album by Tegma out on Tribal Vision Records...
Tegma (Omar Chelly & Jason Orfanidids) based in Sweden are out with their third album, this time on the progressive super label Tribal Vision Records in the Czech Republic. Tegma seems to be changing style a little bit between each album, still keeping a progressive trance style. As usual with releases on Tribal Vision, we also get a fat booklet with a lot of informative text, which is a nice bonus for us who buy instead of stealing albums...


Tegma – Around The World In 80 Minutes (Tribal Vision Records) 2006 (TVRCD008)

1. Our World
2. Desert Tale
3. El Mariachi
4. Tribal Dancer
5. Intermezzo
6. Drums Of Africa
7. A Night In Cairo
8. I Wanna Be A Robostar
9. Spooked

As the title says, they have got inspiration from different places around the world in each track, which they also explains everything about in the booklet. The album starts off with a floating track. Housy progressive trance with a nice flow. We also get some electro sounds in this one. Perfect track for the morning. Track 2 has inspiration from Egypt, with some samples from a musician they met in there. Nice, stumpy track with tribal elements of drums and arabic violin sounds etc. One of my favourite tracks on this album. Track 3 has inspiration from Mexico. It starts off with a Mexican voice sample, before we get brought into a mystic sounding, pumping groove. We get a lot of small, psychedelic details in these tracks, which results in interesting soundpictures. Here we also get more floating vibes, and some rough electro sounds again. Nice one. Track 4 brings us to some African vibes, with nice tribal intro of drums and voice samples. This track goes really groovy, with a lot of nice samples and a marching tempo.

Track 5 gives us more arabic vibes again. This is a chilled track, but with a massive soundpicture. Nice arabic break in the middle of the progressive trance tracks. Track 6 is a drifting track that builds up slowly with a lot of African drums. Beautiful if you are into tribal trance. Track 7 gives us more vibes from Egypt. More tribal drums and Arabic sounds. I really like the mystic vibes we get here. Track 8 is an atmospheric track with a nice uplifting vibe, which fits perfect for floating on the dancefloor. The last track we get on this album starts with some 80's drums. This is one of my favourite tracks on this album. Electro sounds meets progressive trance in a nice way. Nice finish on the album.

Tribal Vision Records releases another quality release here. This is in my opinion the best album Tegma has released so far. More variation, more ideas and more interesting soundpictures than before.
PKS (shivapks@hotmail.com)
Comment List
---
There are no comments.
---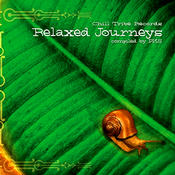 New album
from
Chilltribe
Relaxed
Journeys


Get your
Quality
Relaxation!