---
Top level
Music reviews
---
Review by PKS
New compilation out on Iboga Records, compiled by Yuli Fershtat....
Iboga Records in Denmark is out with a new compilation called Hibernation, this time compiled by Yuli Fershtat from Israel, also known as BLT, Perfect Stranger, Dozer, Fish and Allto. For sure an oldtimer in the psytrance scene, who has several strong progressive releases out on various labels. Here he has carefully collected some big names in the scene, and serves us some of the finest progressive sounds fom the world of progressive trance.


V/A Hibernation (Iboga Records) 2006 (IBOGACD37)

1. James Monro Vs. Dickster – Wash Out (Extended Version)
2. Yotopia – New Born
3. Morax – Out Of The Blue
4. Ace Ventura – R.I.S.E.
5. Perfect Stranger – Bliss
6. Annarchy, Dickster & Barker – Eargate
7. Sun Control Species – Push Through
8. Elegant Universe – Buggy One
9. Fish – Gotta get On

This compilation starts off with two real pioneers in the scene. James Monro, most known as Technossomy, Bumbling Loons and Kundalini, and for running the now defunct Flying Rhino label. And Dick Trevor, most known as Tufaan, Green Nuns, Trickster, Green Oms etc. A nice, pretty trippy start of the compilation. Track 2 is by Yotopia, which is a progressive duo based in Israel, serving pretty high quality in most of their tracks these days. Here we get a stumpy track with several nice melodic sounds, perfected for dancing in the sun. Track 3 (Morax) is the solo project by Michael Reznik, who is also one half of the Triac duo. I like the way he give us something with trippy style here, including some rough sounds and a bit of mystic vibes. Track 4 is by Ace Ventura, which is the new progressive solo project by Israeli Yoni Oshrat, known for many projects, such as Psysex, Children Of The Doc, Schatsi etc. Here we get a really pumping track, with a bit of tribal vibes. Pretty massive, progressive track.

Track 5 is by Yuli himself, with his new project called Perfect Stranger. He will also release an album with this project soon on Iboga Records. And he for sure handels this style well. Totally drifting, trippy, deep track, which is one of my favourite tracks on this compilation. Track 6 is a very interesting collaboration between some pioneers again. George Barker, known from a lot of releases on Flying Rhino and for being in classic groups, such as Slinky Wizard, Binah, Planet Slink etc. Dickster is also involved here, together with Annarchy (Anna Hefetz) known from releases on Liquid & Solid, Transient and Nano. They give us a pretty rough and massive progressive track, going a little bit darker than the previous tracks on this compilation. Australian Sun Control Species (Andrew Davidson) serves us track 7, here with a lot of tribal drums and a nice slow groove. A bit of housy vibes, but going in a nice, trippy direction. Elegant Universe is a brand new project by Israeli Miki Litvak, most known for projects such as Domestic, Hyperion and Shidapu, here together with a guy named Amir Hardon. They give us a very groovy track with nice floating vibes. Something which fits well for drifting on the dancefloor. Yuli finishes the compilation with a new project by himself called Fish, together with DJ Zombi. A pumping track with some tribal elements and mystic vibes. Nice finish on the compilation.

Yuli has for sure done a good job compiling this CD. In my opinion, one of the best compilations Iboga Records has released so far. Here we get tracks that mostly goes a nice trippy progressive trance direction, instead of the electro influenced house direcetion that many artists take these days. Also very nice selection of experienced producers!
PKS (shivapks@hotmail.com)
Comment List
---
There are no comments.
---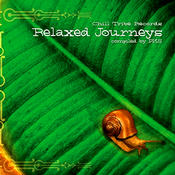 New album
from
Chilltribe
Relaxed
Journeys


Get your
Quality
Relaxation!