| | | |
| --- | --- | --- |
| Flowjob "Support Normality" | | |
---
Top level
Music reviews
---
Review by PKS
Debut album by Flowjob out on Danish Iboga Records...
After several tracks on various compilations, Flowjob (Joakim Hjorne & Mads Tinggaard) from Denmark is out with their debut album on Danish Iboga Records. As usual from this label, we receive an album full of drifting progressive sounds.


Flowjob "Support Normality" Iboga Records 2006 (IBOGACD36)

1. Run Baby run (The Big Escape Version)
2. Everland Airport
3. Flangers In The Night
4. Have Fun & Survive
5. Wannafrisbee
6. They Are Not Alone
7. Mood Food
8. Wadley
9. Glitter (Feat. Trine)

This album starts with a really long track, including a beautiful, floating intro, which I can imagine could turn into a nice chill out track too. But, after a while, the progressive trance drift starts rolling. Melodic progressive trance for the morning with a happy vibe. My favourite track on this album. Most of the tracks we get here has a pretty light, happy vibe. In general, most of the tracks sounds more like progressive house than progressive trance, but I guess they have a foot in both genres. They also put in some elctro vibes in several tracks, which seems to be the new trend in many progressive releases these days. The last track we get here has a lot of female vocals (Trine), which makes it sound like a pop house track. Surprising for sure. One of my favourite tracks here is track 8 (Wadley), which has a very happy vibe, but doesn't become too fluffy.

The debut album by Flowjob is much more housey than I expected. Actually a step away from trance. Happy, melodic progressive house, which should fit on sunny days this summer. But anyway, pretty nice to hear some new directions from Iboga, although personally I like it a bit more trippy and trance oriented than this.
PKS (shivapks@hotmail.com)
Comment List
---
There are no comments.
---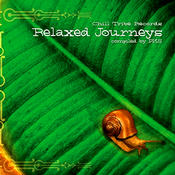 New album
from
Chilltribe
Relaxed
Journeys


Get your
Quality
Relaxation!