---
Top level
Music reviews
---
Review by PKS
Third album by Psycraft out on Hommega Productions...
Psycraft (Alon Algrasi & Nir Sidon) from Israel is out with their third album on Hommega Productions. As usual, they bring in a lot og guitar into their tracks. Here we also get more vocals than usual, plus a few remixes.


Psycraft "Computech" Hommega Productions 2005 (HMCD45)

1. Dirtbag
2. Feel The Vibe
3. Borderline
4. Bad Girl
5. Electro Panic (Remix)
6. On The Edge
7. Law Of Karma
8. Computech
9. Night Drive
10. Inside Your Heaven

The first track we get here is a chilled sort of pop rock track, with vocals done by someone called Brad Sucks and some guitar. Pretty good vocals, but probably not something for the usual trance head. Anyway, quite different and surprising. Infected Mushroom has also had a little to do with this one. Track 2 brings us into trance soundscapes. Also here we get some twisted vocals. In my opinion too much vocals. Quite massive, stumpy track. Not exactly my cup of tea, but if you like the new style of Infected Mushroom, this has a very similar sound. Track 3 is another pop rock kind of track with Brad Sucks involved. A lot of lyrics (which you can read in the booklet by the way). For sure radio friendly pop trance, but nothing I would play at a trance party. Track 4 is a track Psycraft has made totally by themselves. A really stumpy, massive track. Not too much annoying vocals here. Still, I get a very pop feeling, or Infected Mushroom vibe by this track too. Track 5 is the famous Yahel Vs. Infected Mushroom track Electro Panic that we have heard a million times before, here in a Psycraft remix. I donít think we needed another remix of this track, even though this track has some pretty cool vibes. Here we get some guitar vibes too, but I actually prefer the original. Track 6 goes a better direction. Still with a pretty clubby, typical Israeli full on style. In my opinion, there are too many interupting breaks, which stops the dancefloor too much, plus those cheesy take offs. Track 7 is a real summer track, with some pretty nice guitar. Very much like Infected Mushroom. Again we get too many breaks in my opinion, still my favourite track on this album. Track 8 has the album title. Massive and more drifting than most of the other tracks we get here. Track 9 is made together with Guy Peled, also known as Trauma and one half of Beat Hackers. This one goes more full on. Guitar riffs and darker vibes, which fits with the track title. Still, a bit too fluffy for my taste. The last track we get on this album has more vocals again, here done by a guy named Doron Yitach. This one goes a very typical clubby Israeli full on direction again. Not really any new ideas to be found here.

These guys sure has a production talent, but the album they deliver here is in my opinion too clubby and pop influenced. If you like the new style of Infected Mushroom, you will probably enjoy some of these tracks, because many of them reminds me a lot of them...
PKS (shivapks@hotmail.com)
Comment List
---
There are no comments.
---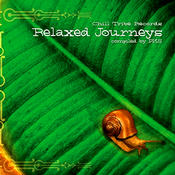 New album
from
Chilltribe
Relaxed
Journeys


Get your
Quality
Relaxation!