---
Top level
Music reviews
---
Review by PKS
Ritter Records based in Costa Rica releases their first compilation...
Ritter Records is a brand new label based in Costa Rica! Probably the first psytrance label ever in that country. DJ Dusk has compiled it, and flashes an impressive list of wellknown artists focusing on the darker side of trance.


Urban Awakening (Ritter Records) 2005 (RT 00-2)

1. THD – Bound
2. Wizzy Noise – Mind Bending
3. Tim Schuldt – Stroke
4. Star-X & DJ Feio – The Trap
5. Dark Soho – Fairy Tales
6. Mino – Tripology
7. D-Tek – Reeboot
8. Four Carry Nuts – Sit
9. Xenomorph – Controled Freedom
10. THD – Despertar Urbano

First thing I noticed about this compilation was the impressive track list, featuring some of my favourite artists when it comes to dark psytrance for the late hours. We also get a new name here called THD, who starts and finish the compilation. THD is DJ Dusk himself, together with a guy called Sir G. They give us a couple of rolling, darkspy tracks. Sounds like it is a little bit inspired by Xenomorph, with some quite scary Halloween themes. Wizzy Noise from Greece is also represented, giving us their usual style of well produced psytrance. Not among the darkest tracks on the compilation, but a massive, rolling track with pretty cool echoing sounds. The legandary Tim Schuldt gives us his typical industrial, dark style on track 3. Nice to see him on a compilation again. Star-X from Israel and DJ Feio from Brazil are known for lighter morning trance, but here they surprisingly delivers a bit more dark vibes. Still one of the most melodic tracks here. Dark Soho delivers my favourite track on this compilation. A beautiful dark track with great guitar play. Not the typical simple guitar trance we get way too much of in full on trance these days, but well produced melodies and interesting vibes. One of the best tracks I have ever heard by Dark Soho! Nice one. Mino from Denmark doesn't release much music these days, but here he is surprisingly back. A drifting tech trance track. Nice to see him release music again… D-Tek is one of the most known full on artists from Mexico. He delivers his typical style of groovy full on. Not exactly my cup of tea, but a little bit darker than what I am used to hear from him. Four Carry Nuts is another project by Tim Schuldt, together with Detlef Funder. Another well known name in the more industrial side of psytrance. Something for those who like it rough. Towards the end of this compilation, Xenomorph, one of my favourite artists within the darkpsy style, delivers a track with his typical horror movie thems and interesting samples. Not bad at all.

DJ Dusk has managed to compile a CD with very many intersting artists, such as Four Carry Nuts, Xenomorph, Mino and Dark Soho. It's rare to find such a nice list of artists on dark psytrance compilations these days, so this was a nice surprise for me! Recommended for those who are looking for some dark psytrance for the night.
PKS (shivapks@hotmail.com)
Comment List
---
There are no comments.
---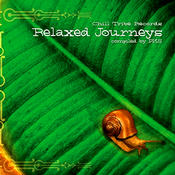 New album
from
Chilltribe
Relaxed
Journeys


Get your
Quality
Relaxation!