---
Top level
Music reviews
---
Review by PKS
Debut album by Swedish Derango out on Inpsyde Media...
Derango (Jens Eriksson & Ola Eriksson) from Sweden has become wellknown in the so called darkpsy scene the last couple of years, with quite a lot of tracks on various compilations, on labels such as Stoneage, Trishula, Sanaton and Parvati. Now they are finally out with their debut album, which takes us into a journey of totally twisted night time madness. It is released on the Italian label Inpsyde Media.


Derango "Tumult" Inpsyde Media 2005 (IME 010)

1. Deranged
2. Confusion Is Next
3. Made Out Of Vapour
4. Masterdamnit
5. All Channels Open
6. The Poisonous Square
7. Lost Theory
8. Fnatt
9. We're All mad Here (Rmx)

These guys sure knows how to tweak out those crazy psychedelic sounds. The bass lines in these darkpsy tracks isn't very impressive, but the variety of crazy sounds is incredible. In my ears, these two guys have managed to make their darkpsy tracks slightly more twisted and interesting than most other within this style lately. Here we get dark, totally far out vibes from beginning to end. My favourite track here is track three, wich is a really pumping track with some scary vibes that brings my thoughts right into some kind of horror movie. Halloween trance for sure! Track 4 with it's "underwater vibes" is pretty cool too, but the rhythm here becomes almost too intense for my head. As usual with the darkpsy style, we don't get much melody in these tracks, but mostly quite random psychedelic sounds. Still, the sounds are well placed and highly psychedelic (psychedelic is fun!), so it never becomes boring.

The debut album by Derango is one of the better darkpsy albums I have heard so far. I love the way they have been playing with tons of twisted sounds in these tracks, and we get quite a lot of variation between the tracks. Still, I often miss some more massive basslines and a little bit more melody in darkpsy tracks, but I'm sure this is something that will sneak in more and more in the future. Recommended for you darkpsy fans out there!
PKS (shivapks@hotmail.com)
Comment List
---
Topic:
Author:

Time:

Magnus Støren Wedèn

15.11.2005 06:40

yeah great album... not very dark tough imo.. more like forestrance or something ;) Ultrapsychedelic!
---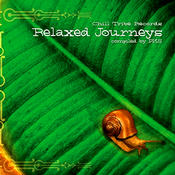 New album
from
Chilltribe
Relaxed
Journeys


Get your
Quality
Relaxation!