---
Top level
Music reviews
---
Review by PKS
New compilation out on Danish Iboga Records...
Iboga Records based in Denmark is out with their sixth chapter in their Set series, as usual focusing on progressive trance. This time it is compiled by the pretty wellknown prog trance artist Freq (dj Frequence), who has also picked out a couple of progressive house tracks here.


Set 6 (Iboga Records) 2005 (IBOGACD33)

1. Freq – carbon Based Lifeform (Sun Control Species Rmx)
2. Freq – Strange Attractor (Liquid Soul Rmx)
3. Beckers – Switch (Ace Ventura Rmx)
4. Zen Mechanics – Enviromental Porn
5. Morax – Lost In The Woods
6. Casa Flava – Further South (Deep Mix)
7. Nyquist – Singularity (Freq Revision)
8. Manuel Duego – Deception
9. Nasser – Vovoli

Freq has managed to pick some tracks here that will probably be appreciated both in the progressive house scene, and in the progressive trance scene. A couple of the tracks become a little bit too housy for my taste, such as the Beckers track, which should probably fit better in a disco than on a progressive trance floor. Those vocals we get in there is so annoying! Anyway, we get some really trancey, trippy tracks here too, such as the quite massive Zen Mechanics track (my favourite on this compilation) and the deep Liquid Soul remix of the Strange Attractor track originally made by Freq himself. The tracks are well put together, so we get a nice flow through the compilation.

Iboga Records has managed to compile a CD that should fit the taste of a bigger crowd than the usual progressive trance scene. I'm sure many of these tracks will be found on several progressive house floors too this fall. Another example of how small/difficult the border between progressive house and trance is.
PKS (shivapks@hotmail.com)

Comment List
---
There are no comments.
---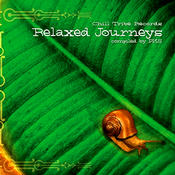 New album
from
Chilltribe
Relaxed
Journeys


Get your
Quality
Relaxation!