---
Top level
Music reviews
---
Review by PKS
New chill out compilation out on Candyflip Records...
Candyflip Records in Greece releases mostly progressive trance, but also some chilled releases. Here they are out with the second chapter in their Mountain High series, which takes us into an ambient/dub journey by known and unknown artists.


Mountain High 2 (Candyflip Records) 2005 (CFCD16)

1. Cell – The Gate
2. Max Maxwell & TKY – Twilight
3. Kick Bong – Way Of Life
4. Linderes Band – Close (Chill Mix Feat. Bede)
5. Max Maxwell – Isha
6. Linderes Band – Secrets Of The Truth
7. Kick Bong – Ballad
8. I.X.O.P. – Forever
9. Lineres Band – Duende (Feat. Bede)
10. Aes Dana – Bam
11. Solar Fields – Good Times

This compilation has a really nice opening by Cell (Alexandre Scheffer) from France. He has released several really strong tracks this year, and here he delivers one of his best tracks so far. Chilled tribal vibe with a wonderful melody coming in after a while. Track 2 by Max Maxwell is allready released three (!!!) times before, such as on Com.Pact and Zulu Lounge. It's a pretty nice track, but I just can't see why release it a third time when there is so much good chill out music out there. Track 3 is a new track by Kick Bong, who released his debut album (A Cup Of Tea) on Ultra Vista this year. Loungy easy listening chill with a very organic vibe. Track 4, 6 and 9 is made by a Brazilian group called Linderes Band. They haven't released much before, but here we get surprisingly three (!!) tracks by them. They follow the loungy easy listening style too. Easy digestible chill prefect for a cafe, but pretty nice tracks anyway. Track 5 is another one by Max Maxwell, also this one disappointingly released before on his album Continuous Play. Track 6 is another one by King Bong again, here with some nature sounds and mystic, dubby vibes. Track 8 is by a fresh new name from Greece, I.X.O.P. Pretty nice down tempo track, totally chilling. The last two tracks are from the Ultimae family, Aes Dana and Solar Fields. Aes Dana gives us his typical style of deep, spacey ambient with down tempo beats. One of my favourite tracks on this compilation. Solar Fields finishes the compilation with a really floating, beautiful ambient track.

In my opinion, the first chapter of Mountain High was slightly better than this. Some of the tracks become a little bit too café chill for my taste, and I was a bit dissappointed to find tracks allready released. But, you also get some really nice tracks here, such as Cell, Aes Dana and Solar Fields.
PKS (shivapks@hotmail.com)
Comment List
---
There are no comments.
---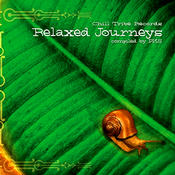 New album
from
Chilltribe
Relaxed
Journeys


Get your
Quality
Relaxation!