---
Top level
Music reviews
---
Review by PKS
Tenth release from Parvati Records...

Parvati Records based in Denmark keeps pushing out dark psychedelic trance, by mostly quite well known names within the so called darkpsy scene. Here they are out with the labels tenth release, as usual with many goodies for the darkpsy crowd out there.


Psy Stories (Parvati Records) 2005 (PRVCD10)

1. Mussy Moody – Magnetic Fx
2. Hokus Pokus – Zim Zalabim
3. Jahbo – Chronic Mnemonic
4. Snap, Crackle & Pop – Where Is Pop?
5. Grapes Of Wrath – Goa Helvede Til
6. KinJahJah – What Has Begun Cannot Be Stopped...
7. Derango – The Arm
8. Strangers – Moruka
9. Red I Jedeye – Mind Expansions

All these tracks has that typical deep, rolling bassline, which sounds like a button is turned on, and it rolls through from beginning to end. Above we get tons of twisted, psychedelic sounds, swirling and jumping. A lot of the sounds might appear very random, but it actually builds up in most of the tracks. Pure night time vibes all the way. Favourite tracks here are Mussy Moody with his bubbling vibes, Jahbo with his dark, pumping, pure madness and KinJahJah, which is and interesting collaboration between Jahbo and Kindzadza, here with a rolling monster. I often find these darkpsy tracks a little bit too equal to eachother, but it seems like Paravati has managed to collect a list of pretty nice variation within this style here.

This tenth release from Danish Paravati Records is among the best releases I have heard from this label so far, so if you are into dark, twisted, night time madness, you should probably check out this compilation.
PKS (shivapks@hotmail.com)
Comment List
---
There are no comments.
---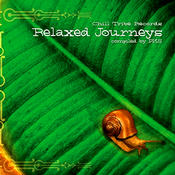 New album
from
Chilltribe
Relaxed
Journeys


Get your
Quality
Relaxation!