---
Top level
Music reviews
---
Review by PKS
New chill label in Israel is out with their first compilation...
Mighty Fat Records is a fresh, new chilled label based in Israel. Here they are out with their first compilation, which is twelve chilled tracks mixed together, compiled by Mista Fabla.


Mellowgrounds (Mighty Fat Records) 2005 (MFR001)

1. Kali Frogz – Tumor House
2. Omegaman – Paradiso (Instrumental Mix)
3. Skizzo Franick – Delicious Cats Food
4. L. St. Amour – Santa Amor's Dirty Love
5. The Uber Groover Project – Octo Dub
6. Kukan Dub Lagan – Sound Of Africa
7. Beatlab:Digital Feat. Piri – Computer Meltdown
8. Zager – I Believe You Johnny Walker
9. Omegaman – Jazz Thing (Instrumental Mix)
10. Beatlab:Digital Feat. Piri – Turning Point
11. Zager – Started With Chords
12. Abdalek – Se Sufi

This compilation is for sure something different from what most psy listeners usually have in their CD player. Here we get chilled tracks by mostly totally unknown, new, fresh artists, giving us their way of chilling out. If you are looking for some psychedelic chill, you can probably look far away from this compilation, but it's nice and interesting to check out new stuff like this. All the tracks are quite experimental, exploring mostly jazzy vibes. Something that might fit best in some café or coffee shop. Actually, I think there are only two artists on this compilation that has released tracks before, Kukan Dub Lagan and Kali Frogz . Kukan Dub Lagan probably most known, because of his album Life Is Nice released on Candyflip Records last year. He definately has his own way of doing it. My favourite track here is the floating, quite deep Kali Froz track. Track 3 is also nice, which is a very easy digestible café chill track, but it brought my feelings right to some warm beach, which is nice when you are freezing your but off here in the cold Norwegian winter.

This compilation is probably most suitable for your jazzy chilled café visit. Most of the tracks are not exactly my cup of tea, but it's nice and interesting to check out some jazzy vibes for a change.
PKS (shivapks@hotmail.com)

Comment List
---
There are no comments.
---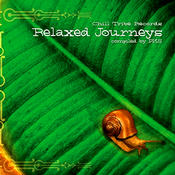 New album
from
Chilltribe
Relaxed
Journeys


Get your
Quality
Relaxation!