| | | |
| --- | --- | --- |
| Megalopsy "The Abstract Machine" | | |
---
Top level
Music reviews
---
Review by PKS
Debut album by Megalopsy on Trishula Records...
Trishula Records in Germany is out with their second release. This time the debut album by a group from Argentina (!) called Megalopsy. They also had a track on the first Trishula compilation, called Ignis Fathuus. Megalopsy are three people, Alejandro Santander, Matias Benamo and Nicolas Dibernardo. They follow the dark side of psychedelic trance.


Megalopsy "The Abstract Machine" (Trishula Records) 2005 (TRISHCD002)

1. Chaos (Intro)
2. Obscure Warlock
3. Fractal Circus
4. Goblin Grin
5. Juggling Spheres
6. Pachamama
7. Monkey Supernova
8. Space Cadet
9. Devenir Cosmos
10. Cosmos (Outro)

First we get some sort of intro to the album, which are some bubbling sounds, some kind of scary horror movie vibes, deep bass, and a twisted voice sample. Track 2 brings us further into the horror movie theme. Pure, dark, scary sounds, and a rolling bass line. Not much melodies, just weird horror sounds playing around above the bass line. This is a kind of trance that many psytrance people like these days. Some say it's more psychedelic, but in my opinion it's just more noise. Track 3 is more pumping. Here we get the noisy vibe too, but also more trippy sounds and some better melodies. Still, very dark with a horror movie theme through the entire track. Track 4 sounds almost like it isn't beat matched correct. For me, this becomes way too annoying. The rest goes the same dark, direction, but with even more noise. Track 5 is a pretty fast, very intense track. In my opinion, this one is one of the better tracks on this album. More variety and better ideas. Still, this is not the kind of trance you should play for someone new to psytrance…

Track 6 goes more drifting, but here we get less variation. Intense, almost gabba techno style, far away from any light melodies. Track 7 continues the almost gabba like intensity. Well, you should not be depressed when listening to this… Dark and darker than dark. Track 8 has a pretty cool horror movie theme. Stumping beats and a floating, scary vibe above. Reminds me a little bit of some tracks by X-Dream. Definitely my favourite track on this album. Track 9 is a bit more massive, but some of these sounds reminds me way too much of hard house, which I hate. Extremely intense sounds all the way through. Not my cup of tea, but maybe something for the speed freaks out there… The last track we get on this album is some kind of outro. This is a kind of industrial track that keeps the evil, horror movie theme to the end.

It seems like the trance marked is flooded over by really dark, Russian style releases these days. Some say it's just kids fooling around with reason, who are not able to make other than weird sounds… Others say it's good night time music. Personally, I find a lot of it really simple and boring. On this album, there are a couple of tracks I could play in the dark hours, but usually I prefer a little bit more creativity in melodies.
PKS (shivapks@hotmail.com)
Comment List
---
Topic:
Author:

Time:

Death Posture

25.03.2005 18:30

Extraordinario Psytranco muy oscuro de la Argentina!

Dark psytrance from Argentina… yeah, that's right Argentina! Megalopsy has the members Alejandro Santander, Matias Benamo and Nicolas Dibernardo and this is their debut album. Newly established German dark psytrance label Trishula Records is out with their second CD after the very nice compilation Ignis Fatuus released in December 2004…. I really liked that comp and the Megalopsy track 'Zacatlocozipitl' was a yummy taster of their deep, dark and pounding style… The album has a cool theme, as it's divided into four chapters – taking us from chaos to cosmos in four easy steps… Right, I'm ready for a dose of gaucho trance… Let's check it out!

Let me take you thru the tracks…

#01: Intro (Chaos)
"Welcome to the abstract machine. Our dark network of twisted and magic nodes. Darkness as a form of energy twisting between all things and unpredictable force of thousands of strange beings. This is our multiple dimensional cosmos spiralling from chaos to complexity. This is our dark platform. Drawing its lines in the endless void. Pulling its energy out of the abyss and multiplying it. Come one and come all and meet the creatures who live within the elements that will form the never-ending combinations of this warped world (…) Once you're in, you are in. There are no doors around here. Welcome to the abstract machine." The intro sets the mood instantly… You're not gonna expect feather-light cheddar-trance after this… This is daaaaaaaark! Static, freaky noises and a naïve melody laid on top a mean-ass dubby beat… Could easily be the soundtrack to The Ring 3… Spooky, but nice…

#02: Obscure Warlock (Chapter I: Chaos)
This track starts with a very Matrixesque theme that soon evolves into the meanest bassline I've heard since the Kemic-Al album Twisted Parameters… Oh yes, this is rich tech-trance with obvious hints to the crude Boshke sound… Sick, repulsive, mean ultra-dark psytrance… I dig the chaotic feel and the constant evolving – the acid runs thick here, and damn that demented melody @ 6'00 will trip you out! Be careful! Highly psychedelic and extremely dark… Sweet!

#03: Fractal Circus (Chapter I: Chaos)
We drift seamlessly into the next track which is a little less chaotic – the bpm has decreased, and we're in tech/dark night-trance border territory now… This has a very wobbly, bouncing quality to it… Very organic and very industrial at the same time… It's a WTF?-track… You can't really figure it out, and you have no idea where it's going next… I like little surprises like that, but as a whole the first part of the track doesn't do a great deal for me… The second part is much better, and the lengthy transition to the next track has a nice old-school touch to it… Decent track!

#04: Goblin Grins (Chapter II: Chaos Fade Out)
20 seconds into the 2nd chapter, and Megalopsy has already graced our ears with 30 different twisted FX… Oh yes, this is a very hectic track – in fact even more chaotic than the chaos tracks before it… Chaotic in the typical Finnish/Australian sense – this could've easily been on a Freakdance Records release… I'm not sure whether to like it, or to be repulsed by it… It definitely has its moments – both cool and annoying… Scores high on the weird-o-meter! Again the transition into the next track is notably cool, and damn I like that concept of tying the tracks together like that… Sweet indeed!

#05: Juggling Spheres (Chapter II: Chaos Fade Out)
"Oh I'm sorry, did I break your concentration?" This is another very dark, industrial-sounding night choon – with a distinct teKK_QUality to it… Reminds me of the track 'Zacatlocozipitl' of the Ignis Fatuus compilation… Very teKknoish, but still übercool… The energy put forward here is simply impressive… And Jules has never sounded better! The last three minutes have a totally different, yet cohesive sound – track transitions rule!

#06: Pachamama (Chapter III: Cosmos Fade In)
Enter the cosmos… A new chapter and a new sound… The sound is sharper now – it's time to zip up and pay attention! This is very fast and more focussed – with a blunt, repetitive bassline… The combination of a really fast pounding beat and hints of melodies is unorthodox, and this track works more like a long transition into the next and you know which way it's going when the monkey-madness starts… Decent track!

#07: Monkey Supernova (Chapter III: Cosmos Fade In)
The monkey track! After the transition, we're soon exposed to a phat, twisted bassline… Yes, we're back on track! This is what I love about this style – the rich, deeply twisted bassline… Hundreds of psychedelic effect and one phat acid-line after the other… Constant changes in pace and direction, but never loosing the overall focus of sheer nocturnal psychedelic bliss… Fucking awesome track!

#08: Space Cadet (Chapter IV: Cosmos)
After another very cool what-the-hell-is-wrong-with-my-speakers transition, we enter the last chapter of this CD… So get ready to hurtle through the cosmos! This track has a weird laid-back, yet totally pumping quality to it… Hard to describe really… Funky dark psytrance perhaps!? I never thought I should use 'funky' and 'dark' to describe the same track, but that's one of the very cool things about this album… For the most part it's very unprecedented stuff – and I always embrace new ideas… So this might not be the best track here, but it's definitely something out of the ordinary… Cool!

#09: Devenir-Cosmos (Chapter IV: Cosmos)
My Spanish may be incredibly rusty, but as far as I know 'devinir' translates into 'to happen'… So yeah, we must be well into the cosmos now… And the cosmos is indeed haunting… This track will leave you hanging on the edge of your seat… It's a big, brutal powerhouse of demented, horrific, deeply psychedelic night-trance… Another highly original tune – this doesn't sound like anything I've ever heard before… The closest I can think of is Overlap on the 6th Sense album – but even that is far from how this sounds… Again a magically spooky transition… You've been warned – this *will* mess with your mind!

#10: Outro (Cosmos)
Damn, if the transition didn't totally freak you out I dunno what will… This outro is a very experimental piece of music… Kinda dubby with breakz and razorsharp frosty cuts… Electro-sauna-dub-skate-punk-fusion! Weird, but fitting to the album… A truly worthy ending to a very unique album in our scene! Diversity rules!

Woow – it's been a while since an album have left such an impression with me… It's not the best album I've heard this year, but it's just so fucking different from what we're used to hearing… I like music that challenges me – forces me to pay extra attention and heighten my perception… And in that sense, this album is a masterpiece… Musically it's just good! And as a DJ tool it's worthless… There is no compromise here – either play the whole album, or don't play it at all!

The whole concept of chapters and long transitions between tracks is simply cool and I wish more artists outside the chill-spectre would do that… It makes for a very interesting listening experience – and justifies listening to an entire album from start to finish despite the weaker tracks…. And there are plenty of highlights here to justify that anyway… Also, let me mention the very cool conceptual art in the cover that correlates perfectly with the music… Well done Trishula!

This is not a psytrance album as we're used to… This is an album that uses dark psytrance as a skeleton for an extended musical journey – and it really succeeds in that. Any fan of experimental electronic music should check out this album – I guarantee you an extraordinary ride! Enjoy!

Favourites: This album should be listened to as a whole… But 2, 4, 5 and 7(!) are stand-outs for me.
---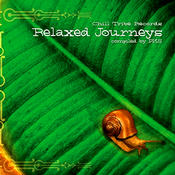 New album
from
Chilltribe
Relaxed
Journeys


Get your
Quality
Relaxation!