---
Top level
Music reviews
---
Review by PKS
Avatar Records is out with the second chapter in their Retrodelic Vibes series...
Avatar Records in Israel is out with the second chapter in their Retrodelic Vibes series. These are compilations that take a closer look at old goa trance classics from the nineties.


Retrodelic Vibes 2 (Avatar Records) 2005 (AVA026)

1. Masaray – Time Traveller Of Trance
2. Doof – Let's Turn On
3. Cydonia – Shambala
4. Electric Universe – Luna Overdrive
5. Psychaos – Spacial Distortion
6. Kopfuss Resonator & Jorg – Whipbird
7. Space Tribe – The Great Spirit (Hallucinogen Remix)
8. Tim Schildt – Karma 209
9. Witchcraft – Witchcraft Magic
10. Man With No Name – Sly-Ed

Nice to see such a track list... First out is an all time classic by Masaray called Time Traveller In Trance. Masaray was a collaboration between Masa (Masayuki Kurihara) from Japan and Ray Castle from Australia. They released an album called Cosmic Trancer on the Australian label Psy-Harmonics in 1995. Nice, drifting start on this compilation. Track 2 is one of my all time favourites, the Let's Turn On track by Doof (Nick Barber)! This track was made together with Simon Posford (Hallucinogen), and released on his album on TIP Records in 1996. This album was later repressed and released on Twisted Records, but with some kind of misspressing, which sounds terrible in the best part of the track. Here we get a version without the noise. A wonderful morning trance track that I will never get tired of! Track 3 is by the super group called Cydonia from the UK which, are Dino Psaras and Man With No Name (Martin Freeland) + friends.The track we get here is not as known as the other Cydonia tracks released, but it keeps the high, trippy quality as the others. Melodic goa trance from the mid nineties. Track 4 is by another veteran in the scene, Electric Universe (Boris Blenn) from Germany. The track we get here has the typical intense, hypnotic drift that Electric Universe is known for. This track was originally released on his second album called Stardiver, on Spirit Zone Records in 1997.

Track 5 is by Psychaos, which is Joti Sidhu from the UK. He gives us a quite rough track as usual. This track was released on a compilation, but is not among the most known Psychaos tracks. This is also more melodic than the techno influenced trance he released later. Track 6 is a track made by Kopfuss Resonator (Mark Pfurtscheller & Timothy Färber) and DJ Jorg, who is most known for starting the Shiva Space Technology label. This track has the sound of the Australian Whipbird, and we get a dark night time style through the entire track. A track for those who like the sound of Matsuri Productions. Track 7 is by another veteran in the scene, Space Tribe (Olli Wisdom) from Australia. This track is remixed by no other than Simon Posford (Hallucinogen)! A very trippy, quite dark, drifting track. Track 8 is by Tim Schuldt from Germany. This track builds up slowly and can create massive energy on a dance floor. Track 9 is by another super duo called Witchcraft. This was Rami Shapira (Chakra) and Izik Levy (Sandman) together. A bubbling, nice psychedelic track, with pumping beats and great melodies. Beautiful! The last track we get on this compilation is a track by Man With No Name. A stumping, melodic classic. Great finish on this compilation.

No bad tracks here, so if you don't have many of these classics, you should definately grab this release. Personally, I have most of these tracks on the old releases, but it is nice to see that these classics can reach daylight again and that they are available for more people.
PKS (shivapks@hotmail.com)
Comment List
---
There are no comments.
---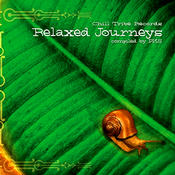 New album
from
Chilltribe
Relaxed
Journeys


Get your
Quality
Relaxation!