| | | |
| --- | --- | --- |
| Orion "Futuristic Poetry" | | |
---
Top level
Music reviews
---
Review by PKS
Avatar Records is out with the second pressing of Orion, Futuristic Poetry...
Avatar Records in Israel is back with their profile series, this time with a trance classic by Orion from Denmark. This album called Futuristic Poetry was originally released on Symbiosis Records in 1997, but is now very rare and hard to find. At that time, Orion was two people, Jean Borelli and Mino Vaknin. So for those who are not as lucky as me to own the original release, it is now available from Avatar Records in a new remastred version. The cover art looks mostly like the old one, but on the track list we get an extra bonus track here.


Orion "Futuristic Poetry" Avatar Records 2005 (AVA028)

1. Nazca Spider
2. The Source
3. Rooster
4. Funkadelic
5. Caracol
6. Akeru
7. The Source (Elysium Remix)
8. Highway
9. The 8th (Bonus Track)

Well, Orion has been one of my favourite artists for many years now, so itís nice to listen to these classics again. The first track is probably heard by most psytrance people who were around in 1997. A fantastic Goa trance track, with a lot of psychedelic KoxBox influenced ingredients, sneaking cool melodies and mystic Asian vibes. Fantastic! Track 2 is a pumping, sort of evil, intense track. Works perfectly well at dark hours of the night. I love the variation you find in the tracks from those years. Track 3 starts really dramatic, and keeps the mystic, almost scary vibe through to the end, except for the chicken scream that makes you smile... Trance that doesnít get boring after one listen, like most full on trance being released these days. These tracks are like bubbling of ideas, sounds and twists! Track 4 doesnít dissappoint either. Music that makes you play with sounds on the dance floor. Funky goa trance!

Track 5 is another pumping track. This one builds up slowly, with mystic psychedelic sounds swirling in and out all the way. Track 6 is among my favourites on this album. Totally trippy track, with some scary vibes and tons of variation. Incredible! Track 7 is a remix of an Orion track done by another veteran in the psytrance scene, Elysium (Kristian Thinning Andersen). As usual, he deliveres a strong, very tribal influenced track. Here we get beautiful flute, weird voice samples, tribal drums and much, much more. A track that proves what a talent Elysium is. Track 8 was the last track on the Symbiosis release, but because we get a bonus on this album, it is not. This track goes slower. Very Elysium influenced style. Mystic vibes and stumpy beats. Beautiful! The bonus track is also released before, but on a compilation called Psychedelic Electronica 2, on Psychic Deli Records in 1999. A great, quite dark, rolling track.

This album is absolutely a classic, so if you donít have the original Symbiosis version, you should definately get your hands on this one. An album full of variation and creativity.
PKS (shivapks@hotmail.com)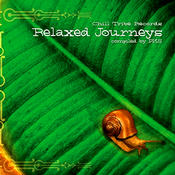 New album
from
Chilltribe
Relaxed
Journeys


Get your
Quality
Relaxation!