| | | |
| --- | --- | --- |
| Fahrenheit Project Part Five | | |
---
Top level
Music reviews
---
Review by PKS
New chilled compilation out on Ultimae Records...
Ultimae Records in France is out with the fifth chapter in their Fahrenheit Project series. A label that has kept a high quality level from day one. It is compiled by label dj, Tajmahal. This compilation is slightly mixed, but not in an annoying way. With other words a nice ambient journey with top quality artists.


Fahrenheit Project Part Five (Ultimae Records) 2005 (INRE 015)

1. Jaïa – Alone
2. Solar Fields – Water Silence
3. Aural Planet – Sunfruits Avenue
4. Aes Dana – Purple
5. H.U.V.A. Network – Processing Lights (Fairy Tales Version)
6. Cell – Blue Embers
7. Great Leap Forward – In Name Of The Super Natural
8. Carbon Based Lifeforms – T-Rex Echoes
9. Sync24 – Adrift In Time (Drumatrix Edit)
10. Hol Baumann – Final
11. Sync24 – Wake (Epilogue Edit)

First out is one of my favourite artists, Jaïa from France. Here we get a relaxing, but quite dramatic track. Melancholic music with atmospheric vibes. Nice start on the journey. Jaïa is releasing a new album on Digital Structures this year, and watch out for a new track on Chill Tribe Records. Track 2 is by Solar Fields (Magnus Birgersson) from Sweden, who has released two albums on Ultimae. This one has a bit lighter vibe, still with a mystic, deep sound. We also get some relaxing beats in there and a nice drifting soundpicture. Track 3 is by Aural Planet (Radoslaw Kochman) from Poland. Here we get a really beautiful, floating track. Totally relaxing and definately one of my favourite tracks on this compilation. Nice journey into relaxing melodies. Track 4 is by Aes Dana (Vincent Villuis), who is also one of the label managers at Ultimae. An artist who has set a high standard with his three albums. Here he deliveres another chilled masterpiece. We get a quite stumpy down tempo beat too, which should fit perfect for those who want to take a slow dance in the chill out area. Track 5 is a track by H.U.V.A. Network, which is a collaboration between Solar Fields and Aes Dana. This track was originally released on their album called Distances, but here we get a remix done by Aes Dana. This one leads us even deeper into mystic soundscapes. Totally chilling.

Track 6 is by an artist who is releasing his debut album on Indica Music these days, Cell (Alexandre Scheffer) from France. He deliveres masterpiece after masterpiece, and here is one of them. Beautiful, floating ambient with some relaxing down tempo beats. Quite atmospheric all the way through. Nice! Track 7 is my favourite track on this compilation. A new track by Great Leap Forward (Marius Katz), who has released several high quality chill out tracks lately. He has also released a trance album on Flying Rhino Records. Here we get some interesting sounds and beats, with a quite dramatic vibe. Track 8 is a new track by Carbon Based Lifeforms (Daniel Ringström) from Sweden. He and Johannes Hedberg has released a great album (Hydroponic Garden) on Ultimae in 2003. The track we get here is pretty dark, but chilling. Sort of an arctic, cold sound. Track 9 is a new project by Daniel Ringström called Sync24. This continues the cold, sort of arctic soundscapes. After a while, we get some dubby beats too. Nice. Track 10 is by Hol Baumann who has had tracks on several of the Fahrenheit Project releases. This one has some guitar sounds and dubby beats. The last track Tajmahal gives us on this compilation is another Sync24 track. A beautiful finish on the journey. Just floating, relaxing sounds, with some whispering voice samples and a melody.

Ultimae Records releases another high quality compilation full of beautiful ambient pieces. Personally, I prefer compilations not to be mixed, but Tajmahal has done a good jobb, making it a nice, relaxing journey. Watch out for the Ultimae crew in the chill out areas this summer!
PKS (shivapks@hotmail.com)
Comment List
---
Topic:
Author:

Time:

Death Posture

31.03.2005 23:19

From psychedelic downtempo to eclectic ambient – in eleven easy steps!

Ultimae Records – the world's leading chill label - is out with their 15th release… This time it's the 5th chapter in the Fahrenheit Project series… The CD is compiled by Ultimae resident DJ Tajmahal who's been in the game for longer than anyone can remember, so chances are he knows what he's doing… The mastering has been left to the experienced Ultimae regular Huby Sea and the tracklist looks absolutely smashing… Ultimae plays their strongest cards – so here's hoping for a breathtaking experience…

Let me take you thru the tracks…

#01: Jaïa - Alone
The journey begins in France… Jaïa (Jean Michel Blanchet & Yannis Kamarinas) released their album debut album Blue Energy back in 1998 and has made some of the most acclaimed trance… Also they have an upcoming album on Digital Structures – I can't wait for that one! This is not your usual intro to an ambient album… I mean, it's still ambient, but Jaïa's goatrance roots do not fail them… After the initial subtle intro, the track takes a trancey turn... Ahh yes, my speakers really like the bass here… Wonderful psychedelic downbeat!

#02: Solar Fields – Water Silence
Tajmahal makes sure we drift seamlessly into the next track… Solar Fields is Magnus Birgersson from Sweden – another Ultimae regular who has 2½ albums released already (he's one half of H.U.V.A. Network with one album released)... This is a nice track indeed – tribal percussion, electro bits & pieces and soft, floating, organic pads… And subtle vocals by Elina Eriksson… Again it's a pretty fast downtempo trance track… Wikkid!

#03: Aural Planet – Sunfruits Avenue
Radoslaw Kochman from Poland is part of the Aural Planet collective, and he has made this track in co-operation with Vincent from Ultimae… Someone once referred to Aural Planet as 'chilled psychedelic trance with an experimental kick' and that's pretty fitting for this track… head-bop friendly with just the right combination of kick, synth and percussion… Tasty!

#04: Aes Dana – Purple
Ahh, Aes Dana… Ultimae execVincent Villuis has yet to dissapoint me... He's released 3 albums as Aes Dana, 2 as a member of Asura and 1 as a member of H.U.V.A. Network – and they all rule! We maintain the danceable downbeat groove here, and this is a very hypnotizing track with a sweet, sweet rolling bassline and an overall funky groove with Eastern influences… Stunning track!

#05: H.U.V.A. Network – Processing Lights (Fairy Tales Live Version)
Another strong Ultimae selling point is the combined forces of Magnus Birgersson & Vincent Villuis… The original version of this track from the album Distances was only 3'30 minutes long and this the live version performed by Vince at the Fairy Tales Party @ The Mass (London) in November 2004… This is a longer chilled mix with breakz and long organic pads… Not bad!

#06: Cell – Blue Embers
Next up is Alexandre Scheffer from France… He's got his debut album coming out in 2005, he's an Ultimae regular and his tracks are also beginning to pop up on harder labels such as Peak Records and Ketuh Records… This is a more chilled track, with less emphasis on bass than the first half of this CD… We're somewhere in border territory between downtempo trance and esoteric ambient… Very floating and nice!

#07: Great Leap Forward – In Name of the Super Natural
"You must be very tired after your long journey? … No, not particularly… I trust you're not in need of anything? No, thank you. Well then I bid you peace!" I own the debut CLF album Cinkofa by aussie Marius Katz but to be honest it didn't really do much for me, and it's collecting dust now… But maybe that's about to change 'cause this is a very nice track… Deep, dubby, floating and with a very dreamy atmosphere… This is perfect chill-out!

#08: Carbon Based Lifeforms – T-Rex Echoes
CBL is Daniel Ringström from Sweden – another Ultimae regular, though I'm not very familiar with his work… We're shifting into more melancholy ambient now, with long organic pads and natural soundscapes laid on top a well-polished, slow, blunt beat… Oh yes, we're getting ready to drift into dreamland… ;o)

#09: Sync 24 – Adrift In Time (Drumatix Edit)
Sync 24 is Daniel Ringström from CBL again, and on this track he kinda continues where he left off on the previous track… It's very organic and very natural – but with a more distinct electronic atmosphere this time… Stiff, harsh electro-elements blended nicely with floating ambient… Experimental fusion downbeat… Interesting!

#10: Hol Baumann – Final
Hol Baumann from France is yet another regular and has appeared on all but one Fahrenheit Project compilations… He brings us another fusion downbeat track with both orchestral elements, dub, guitars and distinct ethnic influences… There's a very nice atmosphere here, and it kinda reminds me of Kaya Project here and there… Nice!

#11: Sync 24 – Wake (Epilouge Edit)
"As I wake up, I find myself floating…" The last track is by Sync 24 again, and now we're reeeeeally chilling out… This is pure ambient… Long harmonic, beatless pads and soothing, relaxing soundscapes… Simply beautiful, and I could not have wished for a better way to end this magical journey… Dope!

I've always been a big fan of the Ultimae releases – and I was particularly impressed with the last couple: H.U.V.A. Network's Distances and Aes Dana's Memomy Shell and I really hate to sound like a broken record, but this is another instant classic from the French chill-masters… A must-have!

The subtle mixing by Tajmahal is flawless, and in his selection of tracks he takes the listener on an adventurous journey from psychedelic downbeat to deep, dreamy ambient… As always with Ultimae the packaging is über-cool and correlates perfectly with the music… Nuff said – this compilation is essential for any fan of intelligent downbeat music! Enjoy!

Favourites: 1, 2, 4, 7, 8, 10, 11

DeathPosture


External links:
Ultimae E-shop: http://tinyurl.com/5vn2q
Psyshop: http://tinyurl.com/49wmk
Saiko Sounds: http://tinyurl.com/4vsrt
Amboworld: http://tinyurl.com/4wpus
Wirikuta: http://tinyurl.com/4lrs7
---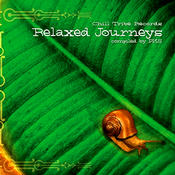 New album
from
Chilltribe
Relaxed
Journeys


Get your
Quality
Relaxation!