---
Top level
Music reviews
---
Review by PKS
Hommega Productions is out with a new full on compilation...
HOMmega Productions in Israel is back with a new compilation. This time compiled by dj Guy Salama, who is hosting a weekly radio program called Trance On Air, in Israel. This compilation is mixed and is supposed to give us some of the spirit you find in these radio shows.


BPM FM Trance On Air (HOMmega Productions ) 2005 (HMCD39)

1. Intro
2. Astrix Feat. Michele Adamson – Closer To Heaven
3. Violet Vision – Cellophane (Sub6 & Domestic Remix)
4. X-Noize – Breaking The Toys
5. Astrix – Coolio (Infected Mushroom Remix)
6. Chakra Vs. Xerox & Illumination – 7 Days
7. Black & White – Spiral
8. Dali – Colors Band
9. Psy Craft Feat. DJ Guy Salama – Alegria
10. Delirious – Dynamic Force Remix
11. Xerox & Illumination – Fly
12. Psysex Feat. Michele Adamson – Your Place Or Mine

The first thing we get here is an intro, which is a radio jingle with commercials for this radio station... With other words, this compilaton is used to hype the radio station... Then we get the first track, which is a track done by Astrix (Avi Shmailov). You also get quite a lot of vocals in this track, which is done by Michele Adamson, who is known for singing in many projects, such as in Shpongle, Sub6 etc. This track was originally released on a 12 inch, on Tokyo Dance Records. The way I see it, Infected Mushroom started with vocals in their full on like this, and then the others have followed. This is what we can call commercial full on. Pop music, with full on beats. Not very psychedelic at all. Track 3 is originally made by Violet Vision (Jonathan Dagan & Shay Raviv) and released on their album Unfold in 2003. Here we get a remix done by Sub6 and Domestic together. Well, this goes the same direction. Full on trance with vocals. Not very psychedelic, but it will probably hit a big crowd in Israel. Great production all the way, but not as deep as I like it to be. Track 4 is a new track by X-Noize (Barak Argaman & Nadav Bonen). This track goes more drifting, but again we get these vocals. It seems like a lot of artists are trying it out these days. Personally, I find vocals like this really annoying, so let's hope it's a trend that will pass by soon. Track 5 is another Astrix track called Coolio, here in an Infected Mushroom remix. This version was also released on the Coolio CD single on Hommega last year. Commercial pop trance again, but in my ears slightly better than most other tracks on this compilation. Track 6 is a collaboration between Chakra (Rami Shapira), Xerox (Moshe Keinan) and Illumination (Amit Dvir), all veterans in the Israeli psytrance scene. This track has a very recognisable voice sample saying: "the dj took pills and played for 7 days". A track that has bin played quite a lot by Israeli full on djs. Other than the funny voice sample, this track doesn't sound very exciting.

Track 7 is by an upcoming duo called Black & White (Samuel Wallerstien & Yaniv Biton). A full on, pumping track, with less cheesy ingredients and no singing... Still, there aren't much psychedelic sounds etc. in there, but we get a nice little morning melody in there. Track 8 is made by Dali (Dalit Eizner). Here we are back in the pop trance vibe again, with ultra cheesy vocals etc. Well, some parts are quite groovy, but as usual these awfull vocals ruins it. Is it a remix of a famous pop song or something? Well, I don't find it very enjoyable at all. Track 9 is a track by Psy Craft (Alon Algarsi and Nir Sidon), here in a collaboration with the radio man himself, Guy Salama. As usual with Psy Craft tracks, we get some guitar sounds in there, and a very powerful drift. Rock meets full on, but in the middle of the track, we get a melody that sounds way too much like some euroclub melody to me. Not among the worst tracks on this compilation, but the guitar trance style TIP.World etc. has pushed out to the audience lately, doesn't exactly make me happy. Track 10 is by Delirious (Avi Harush & Arik Mimon). This track has orginally been released on TIP.World, but here we get a remixed version. This one goes quite fluffy too, but luckily there is no annoying singing in there. Track 11 is another track by Xerox & Illumination. Here they give us a stumping, groovy track, with some nice floating vibes. Fluffy, but beautiful. One of my favourites on this compilation. The last track we get from the radioman is a collaboration between Psysex (Udi Sternberg & Yoni Oshrat) and Michele Adamson. Michele has written the lyrics and is singing together with someone named Tom Rahav. Something for those who like a mix between pop music and trance...

This is definately the most clubby compilation Hommega has released so far. It is a very commercial sound through the entire compilation. With other words, main stream trance that will catch many ears this year, but maybe not among those who have listened to psytrance for a while.
PKS (shivapks@hotmail.com)
Comment List
---
There are no comments.
---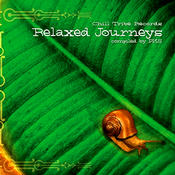 New album
from
Chilltribe
Relaxed
Journeys


Get your
Quality
Relaxation!