| | | |
| --- | --- | --- |
| Ananda Shake "Emotion In Motion" | | |
---
Top level
Music reviews
---
Review by PKS
Utopia Records in Israel is out with a new album...
Utopia Records in Israel is back with their eight release, this time an album by Ananda Shake (Osher Swissa & Lior Edri), who have shaked several parties in Israel lately. I was quite disappointed with the Vibe Tribe release on this label, but luckily they are heading for a better direction on this one.


Ananda Shake "Emotion In Motion" Utopia Records 2005 (UTPCD08)

1. Old School
2. Wrong Answer
3. Let The Music
4. Wonderland (Album Version)
5. Caution!
6. Banana Banji
7. Break Dance
8. Make Me Shake
9. Total Madness
10. Emotion In Motion

The first track is called Old School, and you actually get some old school Goa vibes with this one, especially in the beginning. But they have added a very typical modern, Israeli, full on sound too, with massive beats and some fluffy morning vibes above. Quite melodic track that will fit perfect in the early morning on various full on desert parties etc. Track 2 continues the full on style, but in a darker way. We get some really jumpy sounds in there, voice samples and a couple of breaks with melodies. Track 3 takes us back to pure morning vibes again. I think this one might have some hit potential. We get some really fluffy vibes, but it doesn't become too cheesy. The massive parts are quite intense. Very clubby sound, which we see more and more of from Israel these days. Sort of like the old eurotrance, but in a more full on way. Track 4 continues the clubby sound, still with a full on, massive sound. Very melodic trance that might hit the main stream crowd as well as the trance people.

Track 5 starts with some movie samples etc. Then we get thrown into the drifting full on madness again. After a while we get some guitar in there, which I'm getting quite tired of these days. It seems like every full on artist put in these annoying guitar sounds these days. Too bad, because this track would have been better without it. After a while we also get some latino vibes in there, which sounds pretty funny. Track 6 goes further away from the fluffy vibes. A drifting track that sounds pretty good, but half way through the track, things jump over in a kind of cheesy hard house vibe, which become way too fluffy for my taste. Track 7 has some kind of pop song or something mixed in. This one has also got quite a lot of fluffy ingredients, actually a little bit over the top here and there, but in a better way. The guitar is back in there too. Say no more…! Track 8 continues the clubby sound, with some female vocals and fluffy morning melodies. They could have dropped the vocals if you ask me… Track 9 is another guitar track of the kind I can't stand. But if you ask Chicago and the TIP.World guys, they will probably say they love it… The last track on this album has more guitars. To me, this becomes too cheesy. Simple as that.

This album is definitely better than the last release on Utopia Records. I like some of this stuff in small doses, but the majority of tracks become a little bit too cheesy for my taste. On the other hand, these tracks might hit a big crowd, especially in Israel.
PK (shivapks@hotmail.com)
Comment List
---
There are no comments.
---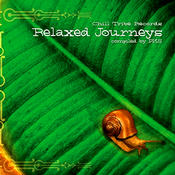 New album
from
Chilltribe
Relaxed
Journeys


Get your
Quality
Relaxation!