---
Top level
Music reviews
---
Review by PKS
New label in Israel called Moonstone Records is out with their first compilation..
A new full on label is born in Israel called Moonstone Records. It is run by dj Bog (Visual Pardox) and dj F-Rat, both heavily involved in Com.Pact Records. While Com.Pact Records has headed for a little bit fluffier side of trance lately, this label seems to keep up with the style Com.Pact released before. The first release on this label is a compilation called Star Dust, compiled by dj F-Rat (Efrat Livne). One of just a few female djs in the psytrance scene.


Star Dust (Moonstone Records) 2005 (MSCD001)

1. Noga – Moksha Mania
2. Blackout – Black Energy
3. Dooper Doopler – Here It Comes
4. Mahamudra – Metal Ethnic
5. Tactic Mind – Troy
6. Visual Contact – Naughty Boy
7. Tripteaser – Heart Brain & Soul
8. Freakulizer – Summer's Almost Gone
9. Electro Sun & Brain Damage – Hypnotic Voices

First out is a track by Noga (Noga Sudan). This is a drifting, melodic track that keeps away from the too fluffy side. You also get a beautiful female voice in there. Reminds me quite a lot of Silicon Sound… One of the best tracks on this compilation in my opinion. Nice start. Track 2 is by a new duo called Blackout (Elad Oahana & Oren Azulay). This one is much darker and more pumping. Some jumpy sounds pop in and out and things builds up and becomes quite melodic after a while. Not among my favourites on this compilation. Track 3 is by Dooper Doopler (Nave Ilia) who has already released a few tracks on various compilations, on labels such as Com.Pact, G-Echoes, YSE, Trancelucent and ZMA. This one goes even darker, with a stumping beat, mystic voice samples and rough sounds. Something for the night… I find the melody in it a little bit simple. Then we get a track by another new duo, called Mahamudra (Ran Malka & Eyal Cohen). A stumping, full on track with a quite funny reggae voice sample. Here we get much more variation, which is great! Definitely one of my favourite tracks on this compilation.

Track 5 is a collaboration between Ultravoice and Kyo-Log called Tactic Mind. They start the track with a voice sample repeating LSD several times. I'm a bit tired of such samples because it is used so many times already. The rest of the track is massive, quite dark and very full on. There could have been some more variation in there. Track 6 is a collaboration between dj Bog (Visual Paradox) and Didi Ezra (Bizzare Contact) = Visual Contact. It sounds like they have gone a little bit more experimental on this one. Some really weird sounds through the entire track, and not so melodic. Track 7 is by Tripteaser (Jonny Jansson) from Finland, who has released tracks on labels such as Shiva Space Technology and Synergetic. Here we get a more typical full on track that fits for the morning, with some quite uplifting melodies etc. Track 8 is by a guy called Freakulizer (Simon Schwendeener), who is also known as dj Thujon. He has also released music on Com.Pact Records. Here we get a massive full on track, with some uplifting melodies, twisted voice samples etc. The last track on this compilation is a collaboration between Electro Sun (Nadav Elkayam) and Brain Damage (Vik Shagal). They take us to a melodic, morning soundscape. Quite beautiful and groovy, but it might sound a bit too fluffy for some people. A track that we will for sure hear at outdoor festivals around the world this summer.

This compilation sounds much better than the latest releases on Com.Pact Records. It seems like this F-Rat girl knows better how to choose the right tracks for compilations, so let's hope Com.Pact Records will keep away from the way too clubby stuff they had on their latest two compilations.
PK (shivapks@hotmail.com)
Comment List
---
There are no comments.
---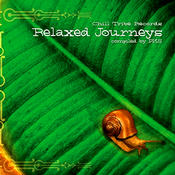 New album
from
Chilltribe
Relaxed
Journeys


Get your
Quality
Relaxation!