---
Top level
Music reviews
---
Review by PKS
New chill out label in Italy is out with their first compilation...
Indica Music is a new chill out label based in Italy. It is actually a side label of Neurobiotic Records, which is doing well in the full on scene these days. Indica Music is now out with the first compilation, called Namaskar. With it you get a beautiful cover art. It is compiled by Josko and Edoardo.


Namaskar (Indica Music) 2004 (INDICD01)

1. Cell – Zaz
2. Yucatan – Aero
3. Tikal – Canicule
4. Altom – Plasma (Shaker Edit)
5. Tripswitch – Viscous
6. Scene – Angel
7. Tikal – Mind Control
8. Vibrasphere – Peace Of Mind
9. Cell – Explicit Rotative Movement

First out is a new track by Cell (Alex Scheffer) from France. He has got a very good reputation for his chill out tracks lately, after releasing several strong tracks on various compilations. His debut album will be released on Indica Music later this year. Here he delivers another good track, with a lot of beautiful Indian vocals and a floating, relaxed vibe. Nice start on the compilation. Track 2 is by Yucatan (Yann Henaff), which is one half of the famous trance duo called Bamboo Forest. Yucatan is his down tempo project, and he has released several tracks on compilations on Spirit Zone etc. Here we get a nice floating vibe, with some guitar, groovy bass and some break beats. Nice one. Track 3 is by Tikal (Manuel and Vincent Bernal). You can also find this track on their debut album called Ritual Cycle, released on Neurobiotic Records 2004. A pretty good, dubby, down tempo track, with a touch of funky vibes. Track 4 is by Altom (Alexis Cornet and Thomas Dubreuil). They are also known for their melodic full on trance, so chilled tracks by them is quite unusual. You sort of get the full on picture in this one too, with a little bit stronger beats than I like to listen to when I chill out…

Track 5 is by one of my favourite chill out artists these days. It is by Tripswitch (Nick Brennan) who has released some fantastic tracks on Liquid Sound Design. This one goes really deep. Beautiful, floating vibe, but here we also get a danceable beat, but in a relaxed way. Definitely one of my favourite tracks on this compilation. Track 6 is by an artist I haven't heard of before, called Scene (Fabrizio Greco). This one goes the dubby direction. Not bad, with some pretty melodies. Track 7 is another track by Tikal. Here they give us a track that almost goes over in the trance category. Not among my favourites. Track 8 is by Vibrasphere from Sweden, who has split up and is now only Rickard Berglof. Vibrasphere is known for their progressive trance, but has also made some very strong chill out tracks. Here we get another beautiful track with a nice melody and a floating drift. Cell who opened this compilation, also finishes it. This track sounds defiantly better than the first one. A deep, floating track. Totally relaxing, with a mystic vibe. Look out for more exciting releases by this guy in the future!

Here you get a nice collection of chill out tracks. Most of the artists on this compilation are actually trance artists, which you can also hear in a couple of them. Some nice tracks here too, especially by Cell and Tripswitch.
PK (shivapks@hotmail.com)
Comment List
---
Topic:
Author:

Time:

Dan Belostotsky

27.01.2005 09:07

Not really a Indian music' exc the first
track, but a very nice one.

---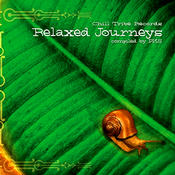 New album
from
Chilltribe
Relaxed
Journeys


Get your
Quality
Relaxation!