---
Top level
Music reviews
---
Review by PKS
New full on compilation out on Neurobiotic Records...
Neurobiotic Records is back with a new full on compilation. They are based in Italy, and is getting better and better for every release. As usual, we get some strong, mostly quite well known psytrance acts on the track list. It is compiled by dj Edoardo, the label manager of Neurobiotic, and one of the most respected full on djs these days.


Neurology (Neurobiotic Records) 2004 (NBRCD012)

1. Wrecked Machines - Electra
2. Silicon Sound - Cypher
3. Orion - Welcome To Reality
4. Altom Vs. Joti Sidhu - Atropa
5. X-Noize - Roger That
6. Joti Sidhu - The Player
7. Intelabeam Vs. X-Noize - Something New
8. Vibra - Casablanca
9. Ultraplex - Logiko
10. Tikal - Solstice

This compilation starts with a new track by Wrecked Machines (Gabriel Serrasqueiro) from Brazil. This track goes a bit slower than usual from this guy, but he has kept the groove. Not as drifting as you might be used to from him, but a pretty stumpy, full on track. Track 2 is by Silicon Sound (Johannes Regnier) from France. He has become very popular among full on lovers, because of his great melodies and drifting, trippy style, which rarely become too cheesy. The track we get here is no exception. Quite deep, trippy trance. Definitely one of my favourite tracks on this compilation. He will probably release his second album on Neurobiotic Records, autumn 2005. Nice one! Track 3 is by another favourite of mine, Orion (Jean Borelli) from Denmark. He makes his full on usually a bit deeper than most other full on acts. The track we get here is no exception either. Quite dark, but light at the same time. Very, trippy psychedelic sounds and a nice drifting vibe as usual. Another favourite on this compilation. Track 4 is an interesting collaboration between Altom (Alexis Cornet and Thomas Dubreuil) and Joti Sidhu, also known as Psychaos. Altom released a great album earlier this year called Groove Control, while Joti Sidhu is coming back on music production for full, after quite little activity in the studio since his Psychaos album (Cause and Effect) on Atomic Records in 1999. This track goes the usual full on direction, with a groovy drift and quite floating melodies as Altom like to do it. An okay track, but there could have been some more variation in there. Track 5 is by X-Noize (Barak Argaman, Amos Turin and Nadav Bonen). This group is not as known as the previous artists on this compilation. It is quite massive, and goes more towards a typical Israeli full on style, but we get a pretty interesting sound here.

Track 6 is a new track by Joti Sidhu himself. He is releasing an album (Punktuator) on Neurobiotic Records these days, but the track we get here is not on the album. He gives us a pretty dark track, with some rough sounds fitting best at night. There could have been some more variation in there in my ears, but he sure likes it a bit minimal, at least in his Psychaos album... Track 7 is a collaboration between Intelabeam and X-Noize. Here we get more Israeli full on. Here they have definitely put the cheese aside, but I have a feeling that a lot of Israeli acts are following the Sub6 style a little bit these days. Quite dark track, with a massive bass line and some funny voice samples. Track 8 is a new track by Vibra (Daniel Costa). This time he gives us a really hard kicking, banging track. Daylight is definitely left behind in this one. Full on to the bone. Track 9 is another collaboration between Israelis, this time between Ultra Voice and Perplex=Ultraplex. This combination isn't bad. This track is one of the best these two guys have made in my opinion. More drifting and less fluffy. The last track on this compilation is a new track by Tikal (Vincent Bernal and Manuel Bernal). They released their debut album (Ritual Cycle) on Neurobiotic Records earlier this year. An album that got very appreciated because of all the variation and creativity. Here you get some ethnic voices etc. and the typical Tikal drift as usual, but for me this track sounds a little bit too fluffy for my taste, if I compare it to the majority of tracks on their album.

Neurobiotic Records proves again that they are one of the leading full on labels out there. Several strong tracks, especially Silicon Sound and Orion, so check it out if you want some full on with a little bit more quality than most other full on compilations being released these days.
PK (shivapks@hotmail.com)
Comment List
---
There are no comments.
---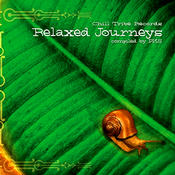 New album
from
Chilltribe
Relaxed
Journeys


Get your
Quality
Relaxation!