---
Top level
Music reviews
---
Review by PKS
The second chapter of Natural Waves Of Sound from Com.Pact...
Com.Pact Records in Israel is back with the second chapter in their series called The Natural Waves Of Sound. The first one was released last year and compiled by dj Feio from Brazil, which was one of the best releases on Com.Pact Records. This time it is compiled by a couple of guys called dj Nino & Kechu.


The Natural Waves Of Sound 2 (Com.Pact Records) 2004 (CPCD019)

1. Cosmic Tone – Save The Day (Visual Paradox Edition)
2. Ferbi Boys – Jumping Beans
3. Aquatica – The Universe City
4. Uriel – Kiss The Sun
5. Visual Contact – Gainover
6. Ultra Voice – Real Will
7. Bizzare Contact – Crystal
8. Intergalactic – Moira
9. System Nipel Vs. Electro Sun – We Can Fly

First out is a track originally made by Cosmic Tone (Roei Nissan) from Israel. Here we get a remix done by Visual Paradox (dj Bog). Some of you probably remember the second album by Cosmic Tone (Going Solo), which was released on Trancelucent Productions last year. That was a very uplifting, kind of cheesy album. Here we get more of that uplifting, morning style, but this sounds like pure euro dance trance too me. The kind of trance you expect dj Tiesto etc. to play. Very easy digestible and terrible in my ears. I don't understand why they put such tracks on compilations like this. Track 2 is by Ferbi Boys (Aviram Saharal & Itai Spector), who is getting pretty good reputation in Israel these days. This one is luckily not as cheesy as the Cosmic Tone track. This one is pretty groovy and has a quite dark sound. Massive beats and less melodies. Track 3 is by another artist who is doing quite good in the Israeli full on scene these days, Aquatica (Elad Asi). This one goes more melodic. Quite floating, with a massive, rolling, bass line. One of the most massive tracks on this album Actually one of the better tracks you get here. You also get a break with some relaxed piano playing. This sounds a bit over the top for my taste. Something for those who are seeking for some massive morning trance. Track 4 is a new track by Uriel (Uriel Ginsburg). It starts pretty cool, with some rough breaks and intense sounds. This one jumps over in a night time vibe, with fast, intense bass line and less melodies. We also get a voice sample in there, which I find a bit annoying. Quite different track from the others on this compilation.

Track 5 is made by Visual Contact, which is a collaboration between Visual Paradox (dj Bog and Uriel Ginsburg) and Bizzare Contact (Didy Ezra). Here we get a groovy bass line, but some of the sounds are pretty nagging and intense. I find these sounds and melodies a little bit simple, and too fluffy for my taste. I'm into psytrance, not euro dance… Tracks like this make be bored. Track 6 is by Ultra Voice (Avi Levi) who released his second album (Art Of Voice) on Com.Pact Records earlier this year. Luckily, things get better here. Better sounds and more interesting ideas. Definitely better for the dance floor, but there could have been some more variation. Track 7 is by Bizzare Contact who got a good reputation in Israel with their debut album Plastic Fantastic, released on Com.Pact Records earlier this year. Here we get a new track, which has a massive, typical Israeli full on sound, but doesn't go the cheesy direction all the way through. One of the best tracks on this compilation. Track 8 is by Intergalactic (Vik Shefi) This time he has also got a female singer with him (Moira). The singing together with an ultra cheesy melody and cheap take offs, makes this track to one of the worst tracks I have heard from Com.Pact so far. What's this?!? Pop trance… The last track is a collaboration between System Nipel and Electro Sun. While we are into fluffy trance, why not finish with it too. This track goes a bit slower, and sounds almost like a commercial pop track. Crap in my ears.

I don't know what happened with Com.Pact, but they sure have gone a lot more commercial on their latest releases. Let's hope they will go back to releasing deeper stuff soon.
PK (shivapks@hotmail.com)
Comment List
---
There are no comments.
---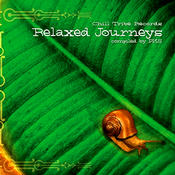 New album
from
Chilltribe
Relaxed
Journeys


Get your
Quality
Relaxation!