---
Top level
Music reviews
---
Review by PKS
New label called Tribal Vision Records is out with their first compilation...
Here comes a positive surprise… The new Czech progressive trance label called Tribal Vision Records is out with their first compilation. It is compiled by Slater & Schwa from the Czech Republic. On this compilation you will find some of the cream in progressive trance. With it you get a fat booklet where you can see pictures and read about the artists. It's really rare to find such booklets in trance releases, so this was a pleasant surprise.


Urban Legends (Tribal Vision Records) 2004 (TVRCD001)

1. Rai – Groove
2. Emok – Old Speckled Hen
3. BLT Vs. Elysium Project – Subway
4. Vibrasphere – Infusion (Vibrasphere Remix)
5. Parrket – Skeletonised
6. Pots – Polish Lips
7. Meller – Valhalla
8. Echotek – Skykorg Key
9. Human Blue – Motionrun
10. Parrket – Sventevith

First out is an artist from the Czech Republic called Rai (Roman Horinek). He has been a dj for many years, and is now resident dj in Prague. He gives us a pretty groovy progressive house track, with some tribal influences and atmospheric vibes. Quite relaxing and enjoyable for home listening too. Track 2 is by Emok (Mikael Dahlgaard) from Denmark. He is one of the guys who run Iboga Records, which is one of the most respected progressive trance labels out there. Here he gives us a deep, trippy track. Very pleasant for early evenings. Music you can relax to or float to on the dance floor. Track 3 is surprisingly a collaboration between BLT (Yuli Fershtat) from Israel and Elysium Project (Kristian Thinning) from Denmark. Elysium is a well known pioneer in electronic music, most known for his tribal techno and trance released in the early nineties. Now he is back producing progressive trance. The track we get here has a nice drifting vibe and some tribal influences. You also get some uplifting melodies in there. Nice one. Track 4 is by Vibrasphere (Rickard Berglöf) from Sweden. Vibrasphere was two guys, but one of them has left the band. Vibrasphere is one of my favourites when it comes to progressive trance. Here we get a remix of a well known track they released on their second album (Lime Structure) on Digital Structures last year. This track is really trippy. A nice voyage in atmospheric floating vibes, totally groovy beats, with a tribal touch. One of my favourite tracks on this compilation. Track 5 is by an artist called Parrket (Mladen Glavinic) from Zagreb, Croatia. He goes a bit darker and more minimal. But things build up a little, and we get some really jumpy sounds in there. In the middle of the track we get a really weird, floating melody, which makes the track pretty cool, but I feel that something is missing in this track.

The dark vibes continues in track 6. This one is made by Pots (Thomas Wilhelmy and Achim Lüthje) from Germany. The bass line is more pushing and goes faster. Darker sounds swirl above and we get less melodies. Track 7 is by Meller (Marco Scherer and dj Mel) from Germany. They have got a pretty good reputation in the progressive scene this year. The track we get here is almost full on, with more variation, psychedelic sounds and trippy, dark vibes. One of my favourite tracks on this compilation. Progressive trance that fits well at night… Track 8 is by Echotek (Micha Yossef) from Israeal. This one is almost full on too, but I find it a bit boring. Little variation and not very interesting sounds. Track 9 is by another Swedish favourite, Human Blue (Dag Wallin). Here comes another melodic trance track from him. It is actually a great track as usual from this guy, but the "take off" at the end, might sound a bit too cheesy to some.. The last track we get on this compilation is another one by Parrket from Zagreb, Croatia. This is a pretty atmospheric, drifting track. Nice and trippy.

This is a surprisingly good progressive trance compilation! One of the best progressive trance compilations I have heard this year. Nice to see so many big names on one compilation. I also appreciate the booklet that comes with it. Recommended for progressive lovers!
PK (shivapks@hotmail.com)
Comment List
---
There are no comments.
---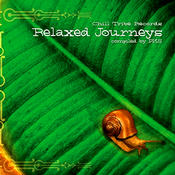 New album
from
Chilltribe
Relaxed
Journeys


Get your
Quality
Relaxation!