| | | |
| --- | --- | --- |
| Various Artists "Drug Therapy" | | |
---
Top level
Music reviews
Psytrance reviews
---
Greek label Acidance releases their first compilation, with well known names like Logic Bomb, Parasense, Xenomorph and more.
With acts like this, the compilation promises, but does it deliver ?
After their first hit release "Parasense - Parasense", Acidance are back with a fresh compilation. The cover, aswell as the tracklisting, promises a lot.



1. Logic Bomb - Join us
2. Ninja traxx - Compromise yourself
3. Labyrinth - Imprint
4. Parasense - Microwave
5. Neuromotor - Fuck the DAT mafia trance xpress
6. Xenomorph - The silimaki murder tool kit
7. Fungus Funk - Space things are on the movek
8. Earthling & Domi P. - El fill del comandant
9. Aerodance - Pop freak

Logic Bomb (with Jonas P & B this time) open the cd with a very nice, though weird track.. Hints of melodies are thrown around in between, and the groove is impeccable..
In true Logic Bomb style the track has fat production, and good rythms are paired with nice sounds to make a distinctive track.

And then there was darkness... Although the first track isn't particularily scary or dark, it has it's elements and leads well on to the next track by Ninja..
Again fat production, deep bass and a driving progression.. It ups the speed a lot, and fills in the kicks with a lot of small sounds..
Definitely well done, but in this company not the most exciting track of the CD.

Labyrinth delivers a kicking track with a bunch of Dark City samples.. (finally someone sampled this excellent flick ;)
This is where it starts getting really intense. The creepy feeling to this track is powered by the pumping bass, and the screechy noises layered on top.
Along with the already mentioned samples it almost reaches Xenomorph levels of scaryness...

Russians Parasense continue the ride with "Microwave", a full on ride with the usual amount of crazyness induced... It doesn't get much weirder than this ...
If you liked the album, this is a killer. Stomping russian trance, with a headsproingtwist !

Neuromotor is a French act, and has just recently popped out quite a few tracks. More hard, intense stuff from this guy, and very well done as such.
I liked the previous tracks, and I've also heard quite a few to be released tracks from this guy, promising ! "Fuck the DAT mafia .." is a good follow up to the Parasense track, and continues the albums fine flow..

Xenomorph is the uncrowned king of Horror Trance, a "genre" that was introduced with Xenomorph ;-) The sick samples, combined with eerie atmospheres and weird noises can make tripped out people go nuts.
Very well done track on this compilation also, and we hope for another album from Mark soon.. "Ralph where are you ??"

The compilers at Acidance obviously didn't want us to have any rest, so the follow up to Xenomorphs madness "Space things are on the movek" by Fungus Funk, is another sick track.
Monotonous bassline combined with a Parasensesque amount of noises and tweaks, bleeps and bloops all the way, and also tendencies to scary strings. A nice one from this (to me) new act.

Earthling has done a lot of tracks with the GMS, but this time around we get a different combination. The GMS connection is quite obvious though, and although the track is well done it is not my favourite here.

The Aerodance (Parasense with DJ X.P.) track drops the tempo (which has been high all the way) somewhat, and introduces more flipped melodies for our enjoyment.
"Pop freak" is a very good roundup of this very well done compilation. Acidance has delivered a very strong compilation filled with hard stuff for the dancefloor.
All the tracks can easily be spun on a dancefloor with success, and also as a listening experience it delivers. The smooth in between track fades are not destructive for playing purposes, but helpful for playing at home.
An example to follow! Mastering is well done throughout, and this CD has a lot of punch as a result.

To sum it up : if you like your psytrance hard and dark, this is the compilation to get right now!
Check out Acidance on the web or some of the shops in our links database for info on how to get it..
Comment List
---
There are no comments.
---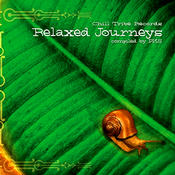 New album
from
Chilltribe
Relaxed
Journeys


Get your
Quality
Relaxation!