| | | |
| --- | --- | --- |
| Arvika Festival 2003 report | | |
---
Top level
Party reports
---
Festival review by PKS
We survived another Arvika Festival. Here is the review...
Arvika Festival in Sweden is a pretty big festival in the middle of nowhere, in a little town called Arvika. This is a festival with mostly rock music, but also other alternative music. They have seven different stages, including one techno/psytrance stage called Impetus. This year was the 12th time the festival was held, and as usual they have put in some interesting acts in the line up. The line up at the Impetus stage was:


Thursday 10 July

Sven Andersson (S)
Dj Mhonolink (S)
I-F (NL)
D Diggler (D)
Kitbuilders (D)
Pascal F.E.O.S. (D)


Friday 11 July

Dj Atmos (S)
Electric Tease (UK)
Dj Chab (Ch)
Synthetic/Deedrah (Fr)
Dj Oliver Klein (D)
System 7 (UK)
Dj Tsuyoshi Suzuki (JPN)

Saturday 12 July

Dj Tege (S)
Necton (S)
Dj Manuel (NL)
Alien Project (ISR)
Dj`s Montagu & Golkonda (D)
Astrix (ISR)
Dj Scotty (D)

Some of the acts at other stages were:

Joujouka (JPN)
Mono (Jpn)
Björk (ISL)
Front 242 (D)
Ministry (US)
Totalt Jävla Mörker (S)
Soulfly (Bra)
Ralf Myerz and the Jack Herren Band (N)

Me and my friends drove from Oslo on Thursday morning. When we arrived Arvika, the festival camp was already full, so we went to the extra camp, which appeared to be in much better quality (no mud…) and it was closer to the concert area. After putting up our tents and flag, we started drinking. At Arvika, people use most of the time drinking, and a little bit of time on the concerts. The rave police are everywhere on this festival, so there are no drugs. This year they had even more police and guards than usual. But that`s how it is in Sweden, and after five Arvika Festivals, we are getting used to it. We had a good time at the camp, melting in the sun, while playing some goa classics on our little cd player, before we went to the concert area.

After some waiting in the gate, we walked right into the main stage where Björk from Island just started singing in her own way, with an orchestra around her, while some great fire works and flames surrounded the stage. Pretty amazing show, and nice music even for the trance people we are. One of the most positive things about the Arvika Festival is that you can experience so many different kinds of music. Björk is not a stranger to electronic music either. She has collaborated with Underworld and many others by the years. At twelve o clock, I went up to the Impetus stage where most of the techno and trance took place. I wanted to see Pascal F.E.O.S djing, since he has a pretty good reputation on the techno scene. He didn`t disappoint either with his drifting techno with house influences. The Impetus stage was really nice too, with some fantastic psychedelic deco. At 01.00 I watched the Japanese pop/rock group called Mono. They didn`t impress me much, and I didn`t hear any of those beautiful chilled tracks they have released. They also waited for several minutes between all the tracks!
At 02.00, JOUJOUKA (also from Japan) went on stage. I have wanted to see them for a while, and this is one of the more experimental projects Matsuri master Tsuyoshi Suzuki have been involved in. They played their hard and weird music (three guys) and the crowd seemed to love it. After that, not much more happened, so I found my way to the tents.

The next morning I woke up hot as hell, since the sun was shining on the tent, heating me up like a n egg inside. So I got out and played some nice chill on our cd player. We relaxed on the camp most of the day, before we went to the Impetus stage at 15.00. Atmos was the first one on the stage this Friday, playing a dj set for a change. The reason why they started so early was because of some stupid rules made by the Swedish police. They think that people use less drugs if they close the trance music at 2 o clock in the night! That`s why they start so early… But that`s just another one of those totally stupid rules that we are getting used to here in Norway and Sweden. Atmos played some pleasant progressive trance tracks with some melody in between. Not the best Atmos performance I have seen, but not bad. After playing for two hours, Electric Tease (Tim Healy) went on stage. He is the man behind Quirk together with Mark Allen. These days he plays mostly as Electric Tease, which is his solo project. At Arvika, he played a dj set. He started with a Nirvana track (!) which he mixed into some trance rhythms. Pretty weird samples in trance, as always when he is involved in Quirk and his Electric Tease project. Funny performance, but not the best quality music I heard on this festival. After listening to some of that, I went back to my tent to drink some more vodka…


At 20.00, my favourite on this festival went on stage. Frederic Holyszewski aka Dado aka Synthetic aka Deedrah etc, played a fantastic melodic full on set. He varied it all the way, and most people I met agreed that this was a really great performance! He will probably release a new Deedrah album this year, so watch out! I heard a lot of fantastic new tracks! After this nice experience, we took a break, and went back at 2300. Steve Hillage and Miquette Giraudi (System 7) went on stage, and they have made psychedelic music since the seventies. Steve played his guitar, while Miquette played some synths. This concert was also one of the best concerts I saw at the festival. The guitar and the techno rhythms made it really psychedelic and beautiful. The couple on the stage seemed really happy too. I also got time to see a rock band at the main stage called Ministry from the US, and some heavy rockers learned me how to stage dive for the first time. Funny, but dangerous.
After the great System 7 performance, dj Tsuyoshi Suzuki played a banging dj set, with more trance than last time I saw him dj. He was once my favourite, but after going over to more hardhouse oriented music, Im not that impressed anymore. After watching some of his performance, I went to another stage to see Front 242. Most people probably remember them from the 80s when they were pretty popular. I have never been a big fan of their synth/rock thing, but it was fun watching. I finished off the evening by watching a Swedish band called Totalt Jävla Mörker, which is some kind of heavy punk band, that tried their best to scare the shit out of the audience. The most energic concert I watched on the entire festival. Ugly, but fun.

The last day of the festival was the day most psytrance people had looked forward to. The first concert I watched was Necton from Sweden. They have released two albums. Their live performance was a bit more minimal than I expected, but away from that we got most of the same stumpy style they usually make. At 19.30 I took a look at the main stage where Soulfly from Brasil went on stage. They started by playing some Indian music, before their evil guitar sound started polluting the area. I went to see Alien Project (Ari Linker) from Israel at the Impetus stage. He has become some kind of star on in the psytrance scene after two albums on Phonokol and one album on TIP.World.
He played the usual tracks from his albums, which were pretty nice on those heavy loudspeakers. At 23.00, another upcoming Israeli star went on stage. Astrix really rocked the place and surprised a lot of the pessimistic trancers. People danced like mad men, and things went really crazy when he put on a trance track full of guitars at the end. All the heavy rockers started head banging like crazy! After the surprisingly good Astrix show, dj Scotty from Germany went on stage and played for a couple of hours. I also took time to watch a Norwegian group called Ralf Myerz and the Jack Herren Band. They make some interesting alternative electronic music with a lot of drums and mixed in instruments.

After five years with Arvika Festival, Im not tired of it. If you take it for what it is, and can enjoy other music styles than the usual psytrance, these kinds of festivals can be really fun. I had a great time all the way, met a lot of friendly people, watched a lot of funny concerts, danced like a mad man at the Impetus stage etc, so yes, I will go back next year!
PK

For more pictures from the festival, check out:
PKs Arvika pics 2003



Comment List
---
Topic:
Author:

Time:

Paal Bjørnaraa

27.07.2003 13:23

Du har fått med det beste der ja. Arvika var gøy! :D
---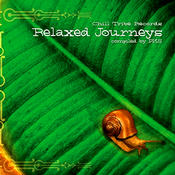 New album
from
Chilltribe
Relaxed
Journeys


Get your
Quality
Relaxation!